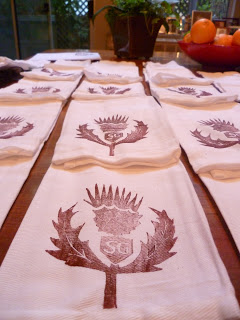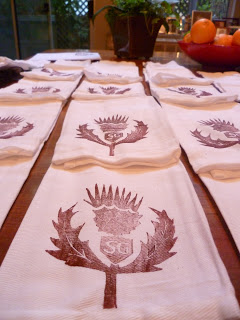 Only one more day until guests start to arrive for our grand Scottish weekend. There's a lot to do still, but I've completed a fun project: hand-printed napkins!
I carved the thistle design over the weekend with Shane's initials in the middle and finished the napkins last night. I think they'll be fun customization with the theme. The napkins can be taken home as dishtowels party favors by the guests and the seal will be a gift to the birthday boy.
Supplies:About $35 for 24 napkins
– Iron
– Tinfoil
Steps:
Carve the linoleum block with the design of your choice, making sure to do lettering in reverse. I really liked this process, all that scraping is very cathartic. Clean the block with a dry brush and ink using the roller. Stamp the napkins and leave overnight to dry. Iron the next day on the highest setting with a sheet of tinfoil under the napkin, design down. Use any extra ink to print your own letterhead for menus.