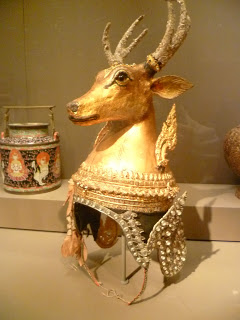 The Asian Art Museum is such a nice place to spend a winter afternoon. I hadn't been since a visit during my very first month in the city, almost 6 years ago.
Civic Center – normally a pretty skeezy place – can seem almost Parisian on a hazy, cold day with the farmer's market in the plaza. The museum building is the former city library, designed in 1917 by the same person who did the Musee d'Orsay. Gorgeous.
PS: I would totally wear that gold deer hat. In fact, I think it would be a perfect accessory for the "highlands" this weekend.