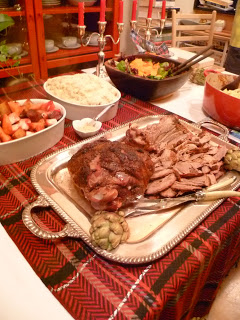 Party Recipe: Burns Supper
If I didn't already have so many annual parties this time of year – I would add a Burns supper to the rotation in a heartbeat. We really outdid ourselves with this event!
Decorations:
A plaid scarf as a runner on a white tablecloth, potted ferns, artichokes, red candles,
thistle stamped napkins
. Guests decked out in plaid. Scottish music including bagpipes and the Bay City Rollers.
Appetizers:
Rye crackers with pepper smoked salmon and cream cheese, celtic cheddar.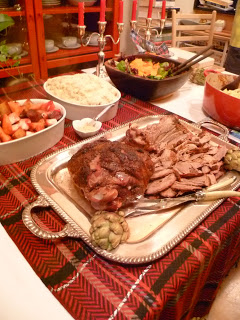 Dinner: Two roasted legs of lamb, truffle mustard, an authentic haggis (actually pretty tasty!), mashed potatoes with roasted garlic, roasted beets, turnips and carrots with lavender salt, cauliflower gratin, green salad with oranges and red onion. No cock-a-leekie soup because with 15 guests, we had to switch to a buffet format.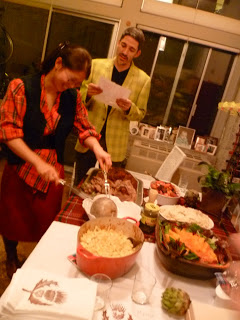 Dessert
: Margaret made
bread pudding
with a bourbon sauce and ice cream. Decaf coffee.
Drinks: Hearty red wine, five kinds of scotch, beer.
Activities
: We did a full traditional Burns supper with several stages of toasts – opening, while you cut the haggis, to the lassies, to the laddies. In our attempt at Scottish brogue we read
To a Mouse, To a Louse
and other short poems. We ended the dinner by singing
Auld Lang Syne.
After the supper, we played a round of guess-the-movie-character. Jackie (and the rest of us) were absolutely stumped by her card with "
Morlock
" from Time Machine.