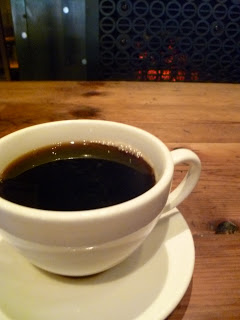 What a weekend! We were lucky to have the first geniunely nice weather in months pass through town. On Friday, Rob and I went to see The King's Speech after work. What a great movie! Helena Bonham Carter was awesome. On Saturday morning, we went for breakfast at the new Grove down the street. Cute place – like Anthropologie but with eggs and coffee. We sat by the fireplace upstairs.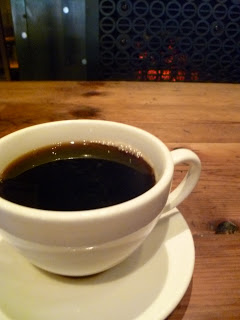 A couple errands on the way home and then out for an architectural tour by bike sponsored by the Bicycle Coalition. It featured turn of the century buildings by the Reid brothers dowtown.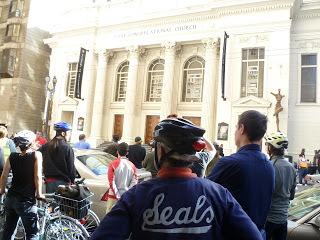 We left the ride towards the end for a picnic on one of our favorite piers – an Acme baguette with cheese, salami and nutella. Back home for a planned quiet evening. I was just wrapping up a simple fish and rice dinner for the two of us when the doorbell rang. Oops! A miscommunication in our planning meant I thought we were planning dinner for Sunday and Seth, Amy and baby thought Saturday!
I quickly changed plans and whipped up chicken tacos with spanish rice, beans and salad. It was a great meal that definitely adhered to my resolution for more casual parties in 2011. We followed dinner with prosecco and cake. Much better than our original Saturday night plans!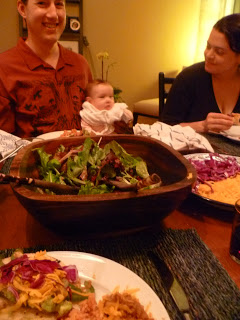 Sunday morning, Rob left for work and I spent the morning in bed with the paper and a cup of coffee. At 11:30, I took the train to meet up with Margaret at the Asian Art Museum for the last day of the Japanese screen exhibit. We had a great lunch in the cafeteria before finishing the rest of the exhibits upstairs. Mmm, thai coconut soup and sweet potato fries!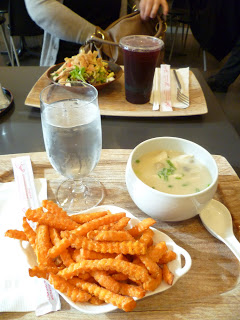 Farmer's market at Civic Center up next on the agenda. For exactly $20, I brought home a feast of beets, persimmons, oranges, artichokes, myer lemons, onions, cauliflower and potatoes – even a small fern. A very wintery bounty.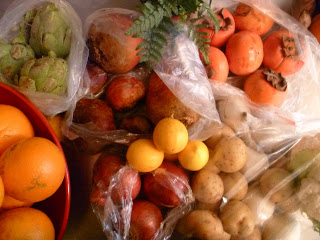 A quick tea at home before Margaret and I went to the art supply store down the block. I bought a linoleum carving kit and she loaded up on paint supplies. By Whole Foods and then back home to prepare dinner. I tried the cauliflower gratin recipe (kind of bland, I'm going to punch it up) for next weekend with little pork chops and salad. Margaret left for home and I went nuts carving a seal for the next weekend's Scottish party.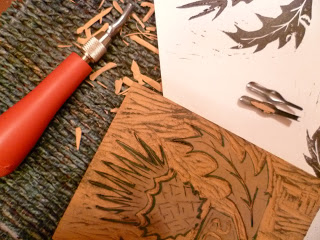 I may be officially obsessed with engraving! Monday morning, up bright and early to volunteer for Day of Service with Golden Gate National Parks. Margaret and I drove to Land's End park to help landscape the new grounds with native plants. There were about 50 other volunteers and they said we planted over 4,000 seedlings!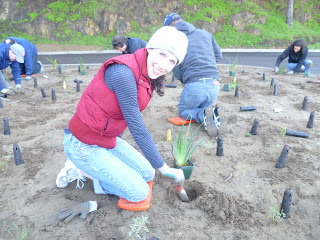 We were so fast, that they dismissed the crowd an hour early. Margaret and I went for lunch at Park Chalet and then on to Target in Daly City. I dropped her off at home back in the city, got the car washed, had a bath myself and caught up on my mending (and Downton Abbey) at home. There's a lot to do before the big party next weekend!