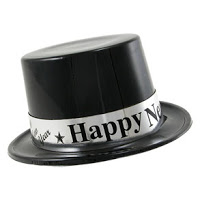 Weekend Round-Up: Happy New Year!
This was a perfect weekend to ring our second calendar-year in San Francisco! (And yet again, a pretty long post to tell you about it):
I've been on a healthy veg cooking kick lately and I made a vegetarian chili dinner on Friday night. I tried to copy the super-delish chili they serve at the Connecticut Yankee and came in fairly close. Rob and I had a quiet night at home, resting for the next day's big clean up!
A major reorganization was in order to accommodate all the goodies we got for Christmas in our small apartment. Along with taking down all the holiday decorations, I also cleaned all the "debris" from each room on Saturday morning. After a few hours the house was scrubbed, the cabinets organized, the molding dusted (a huge undertaking in a Victorian apartment) and six bags of junk taken down to the trash. What a great feeling! I couldn't stop myself from opening and closing the kitchen cabinets just for the sight.
Rob and I washed the dust out of our hair and headed downtown for some errands. First stop: the cavernous CompUSA on market street followed by Gump's to buy two sets of silver storage bags. We picked up lattes at the Coffee Bean and then joined all the rest of the domesticated urban couples at the Container Store to consider Elfa closet systems. We headed home by way of the produce market to pick up supplies for vegetarian cauliflower pasta for dinner (it is great cold the next day!).
Jean and Trent were arriving from Davis Sunday afternoon. Rob and I made a quick trip to the laundromat in the morning drizzle and picked up the paper. Some leftover Neiman Ranch bacon and toast made for a satisfying breakfast. About an hour before Jean and Trent were to arrive, I started a batch of cinnamon ice cream. It came out of the maker exactly when the buzzer rang. Everyone settled in to catch up and play some video games.
At 6:30, we changed for dinner and had a sushi feast at our local bargain spot. Jean and Trent headed out to the marina to meet friends while Rob and I took the train (free for New Year's Eve!) down to Mezzanine to see Scissors for Lefty play. I love that so many San Franciscans were dressed to the nines and out on the town. A fun venue, a fantastic show from SFL and a chance to ring in 2007 under a shower of balloons with a group of friends…altogether, the best New Year's eve I've ever had. Back home on a crowded 1 am train to crash into bed.
Everyone woke up with small headaches on Monday morning (how!? I really only had two drinks). Eventually, we all got dressed and walked down to Sparky's Diner for pancakes, BLTs and scrambled eggs. The city was a ghost town at 10 am. Rob and I hadn't been to this quirky 24-hour diner before, it has a lot of character(s) and better-than-average food. Back home to continue recuperating and obsessing over our Lego Star Wars game.
At 1:00 it was just too nice to stay in any longer and we took the N-train out to the beach for a little archery. It's a long walk from Judah street to the field, but a very pleasant one. As a bonus, the weather was surprisingly sunny and warm on that side of the city. We shot for about two hours and followed it with a light lunch at my favorite: Park Chalet. The boys got off the train at home with the gear, leaving Jean and I to go downtown for a quick shopping trip. Big sales at L'Occitane and Club Monaco! The stores closed at 6:00 and we took the subway back , stopped at Safeway and made a batch of super nachos for dinner.
I know, I know…I always say it: but this was really a perfect weekend. Between the weather, the New Year, the food, the SFL show and having Jean and Trent back in town…it really doesn't get much better than this!