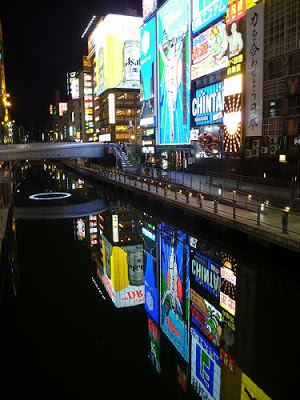 We came down the mountain from Koyasan and spent our last few days in Osaka. We were back at the same hotel as our first night but exploring the city for the first time. It was a bit of an adjustment to the hugeness and bustle of Osaka after staying at the temple! The service at the Hotel New Otani Osaka is excellent and we liked the location a bit outside the main city and right across from a major park.
Osaka is all about food and seems to really come alive at night – sort of a New Orleans vibe, but in a sprawling Japanese metropolis. Rob and I took the train down to the Dontonbori neighborhood our first night for some of the famous Osaka food: octopus balls called takoyaki and a sort-of vegetable omelet covered in fish flakes served on a hot grill at your table called okonomiyaki. The area is positively packed with animated restaurant signs, neon and lots of people. When we were there, politicians were making loud speeches from the tops of vans to the huge crowds.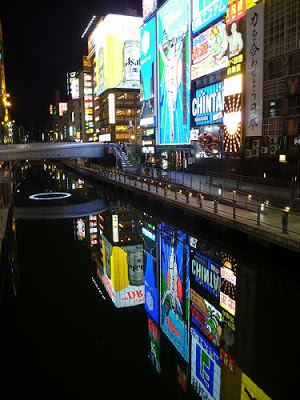 Rob and I spent a couple hours down in the neighborhood after dinner – shopping at a 12-story sports store and discovering my favorite bookstore yet. Standard Bookstore had an incredible selection of things made by local artists, stationery, magazines, books, art supplies and jewelry. I bought half of my Christmas presents in this one shop: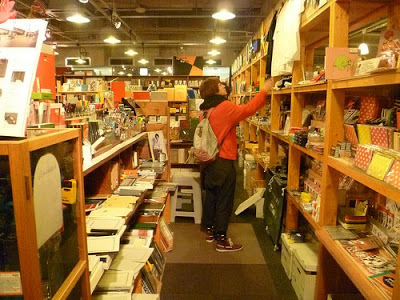 Rob and I decided to walk back to our hotel from the neighborhood and discovered just how massive Osaka really is! Since everyone rides trains everywhere, it's pretty quiet once you're outside the main train stations. It took us a couple hours and a few moments of feeling lost, but we got a better sense of the city. A few blocks from our hotel, we passed this little cafe with bikes out front and a festive wedding reception upstairs: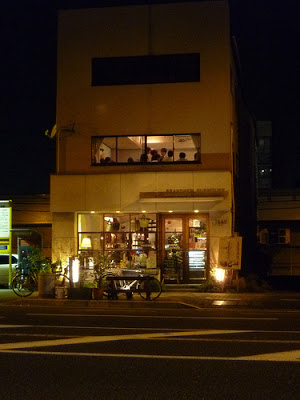 It was Sunday the next morning and we had our first real "sleep in" of the trip. We read the international paper delivered by the hotel and watched a gardening show in Japanese on TV. At 10, we headed out by train to an event billed as a "large antique fair" at Tsurumiryokuchi. Classically Japanese, the fair consisted of about a dozen perfectly organized and neat little tables inside an auditorium pumping bossa nova. I picked up a tortoise shell comb and a few stamps. Next to the fair, we visited Sakuya Konohana Kan – a huge conservatory of flowers built for an international expo in 1990. Very impressive, with a huge lily pond garden, tropical hibiscus and even an arctic exhibition with tiny, refrigerated plants.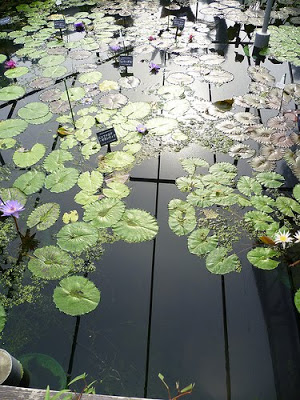 In the late afternoon, we met Alex in the Umeda neighborhood, the city's main shopping area. There are trains everywhere here with almost a million people a day going to the two main stations. It was surprisingly pretty. Most shopping in Osaka takes place in 10 or 12 story indoor malls with restaurants on top, but there are little cafes and outdoor shopping streets here too.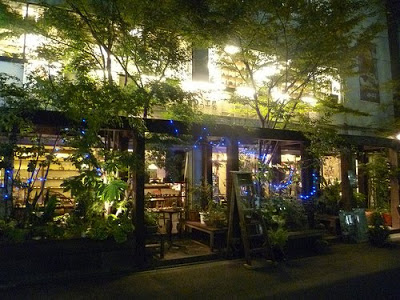 We had a shabu-shabu dinner at a nice place on top of one of the big malls. After dinner, the three of us walked over to the famous "Floating Garden." The base of the massive skyscraper had an incongruous Bavarian Christmas fair running – complete with those ugly German troll souvenirs and steins of beer. At the 39th floor, you have to take a suspended escalator to the to which is designed to appear "perched" on the top of two towers. My fear of heights had a field day! For our $8 admission, we got stars to write our wishes on, an interactive love fortune-telling lounge and photos in this awesome set-up: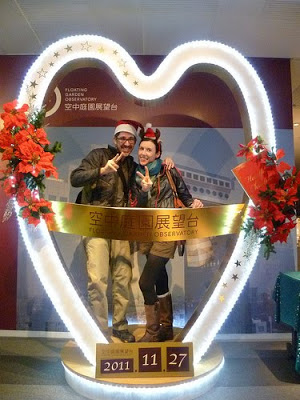 Plus, of course, the crazy views of Osaka from the dark open-air deck at the top: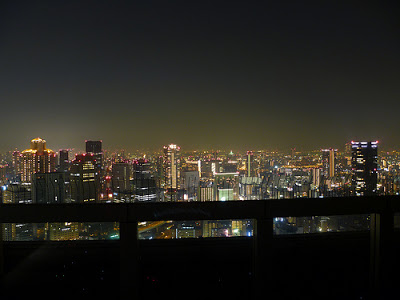 Rob, Alex and I spent a few hours with cocktails at the Sky Bar a couple floors below before calling it a night. The next day, we packed for home and checked out of our hotel. With a few hours and a little cash to burn, we left our luggage in a locker at the Tennoji station and shopped for gifts in a giant mall called Mio. Amazing stores! The exchange rate was the only thing preventing me from bringing absolutely everything home.