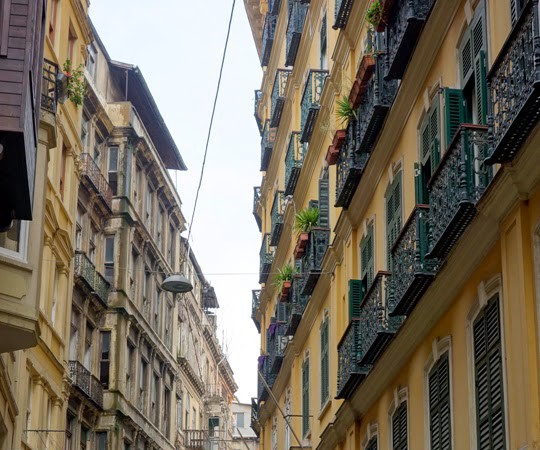 What to See, Eat and Wear for a Week in Istanbul in March
Now that we're off to a new city, let's recap Istanbul for future reference. I wasn't sure what to expect of this city and it took me a couple days to settle in to it. However, I left really loving the people and the spirit of Istanbul.
Where to Stay
We had an amazing little studio apartment just down the street from Galata Tower for about $60 a night. So centrally located, we walked from there all the way to the Bosphorus Bridge, Taskim Square, and Sultanahmet. Our street was a mix of hipster cafes and branding agencies on one side and wood carving studios on the other.
What to See
Here are my favorites, in order. The three day city museum pass does help with skipping lines and packing it all in:
1. Hagia Sophia was so much prettier in person than photos can explain.
2. Crossing the Bosphorys on ferry to explore the Asian continent in Kadikoy.
3. Taking a break from the bustle in the Basilica Cistern.
4. A different perspective at Istanbul's Modern Art Museum.
5. The Blue Mosque for a look at how people pray today
6. Topkapi Palace is full of treasures and beautiful Ottoman rooms, but can be SO crowded.
7. The extensive and lovely Archaeology Museum.
8. Istanbul's rainbow stairs.
9. The funky little free postal museum.
9. Taskim Square and the main shopping street. Interesting, but who needs to see another H&M.
10. Grand Bazaar and Spice Market. Worth walking through both buildings but the shopping there seems strictly tourist.
What to Eat
Food in Istanbul is largely simple and fresh. $1 gets you a warm sesame simit (bagel type bread) or a glass of fresh pomegranate juice or a sugary tea anywhere in the city. Doner kebaps, roasted on a vertical spit are everywhere. Get the extra garlic sauce to add some flavor. Grilled fish sandwiches are also ubiquitous, but don't taste of much more than mackerel. We ate good pide (pizza-like dishes with meat and cheese, no sauce) with homemade pickles at Hocapasa Pidecisi near the spice market. Massive stuffed baked potatoes over by the Bosphorus bridge were good too. Ciya Sofreasi, on the Asian continent, was definitely the best food in Istanbul for us. We cooked breakfast and dinner at home most days, so didn't try all that many places out.
What to Buy
The prospect of having to carry whatever I bought for eight more weeks was very effective in preventing me from shopping. However, I did do a fair amount of looking. I would skip the Grand Bazaar and instead cross over the Bosphorus to shop for rugs, spices and tea in Kadikoy. Near our apartment, I would also stop in to Hic, a beautiful boutique that features a modern take on local artists.
Pro Tip
If you see a shoe shine man drop his brush when he walks past you, just ignore it. It's a trick they use to get tourists to stop and talk to them and eventually charge for a very overpriced shoe polishing.
What to Wear
Like Paris, black is the color loved by locals. A good pair of flat boots that you can pair with thick leggings, jeans or dark tights is indispensable. Looser cuts, like a cashmere poncho or trench coat feel comfortable, less around the locals but more with other tourists in full burkas. We had moody weather while here with most days including some rain and some warm sunny hours. You'll need a scarf to go into mosques but can buy one easily anywhere. Umbrellas are sold on the street for $3 if you need one. I was disappointed to see a handful of Americans, all well old enough to know better, wearing bright college hoodies and running shoes. That doesn't even make sense to me since you could pack three nice sweaters in the space one hoodie would take up in your luggage.
I think that wraps it up. Istanbul was wonderful. Everyone should go!