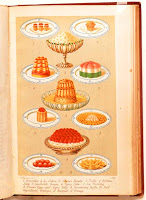 Books on Blog: Brunches and Coffees
Thanks to my close family friend, Kate Riggins, I am starting to build up quite the collection of vintage entertaining books. The latest addition is Brunches and Coffees by Marion Courtney.
Included in the book are ideas, decorating tips and recipes for 33 different kinds of brunch and coffee parties for the hip hostess circa 1960. A favorite so far is the Bridal Brunch. Here's the excerpt:
The daughter of a best friend will be married at four. Take the pressure off the mother of the bride and entertain the family and wedding party at an eleven o'clock brunch.

Choose a pastel color scheme, thus saving the traditional white for the wedding reception. If the bride is a blond, choose blue; or if she is a dark-eyed brunet, use petal pink. Carry this color into the linens and even into the aprons and caps of the maids, and the ties of the bartenders or bus boys.

Serve champagne punch and Catawba grape juice icy cold to give the party a glamorous beginning. Ring the punch bowls with camellia leaves and carnations, and float a flower or two in each bowl.

Make fifteen-inch tiered cakes on chicken wire frames of pink and blue carnations interspersed with huckleberry leaves. If you plan to serve buffet style, a pink or blue taffeta cloth with an overskirt of white net at the corners with small bouquets of the same carnations would be charming.

Menu: eggs benedict, blueberry muffins, pickled peach, strawberries richelieu, coffee.
Now you know how to throw a bridal brunch, complete with carnation cakes! Next up: Baby shower brunch.