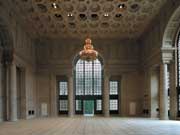 Social calendar: Free admission to the Asian Art Museum
Visit the Asian Art Museum for free this Saturday or Sunday. The museum is celebrating it's 40th anniversary this weekend and opening it's doors to the public for free.
This is a fabulous museum! Wear sneakers because it is huge and plan on having lunch in their great cafe. Also, the gift shop has some really nice items for sale.