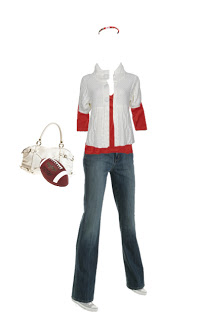 What to Wear: Super Bowl Party
I love a good Super Bowl party. Especially a Super Bowl party with onion dip and that excellent combination of a block of cream cheese and a jar of salsa. Here is Melissa's request:
Help! Super Bowl is just around the corner – and I have a good-looking date… the problem is what to wear!! I want to look cute – but nothing too dressy but at the same time not just a T-shirt and jeans…..I am 5'6 and wear a 4/6 – brown hair and brown eyes.. Any ideas??
Sport enough to hang with the guys. Cute enough to schmooze with the other lady guests at the party. Done!
Cardigan – A casual little number from Forever21.
Long sleeved tee – In the color of the team you're cheering for.
Jeans – A bootcut pair.
Sneakers– In case there is a halftime game of flag football on the lawn calling your name.
Purse – To match the sweater.
Headband – With a fun kimono fabric print.
Have fun at the party!