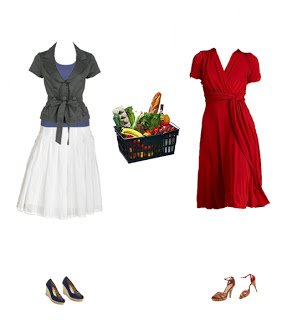 What to Wear: Safeway on a Warm Day
On the rare day where the weather is sunny and warm in the city, San Francisco's women throw down some seriously cute outfits. Most of the time San Franciscans are known only for sporting a good pair of jeans and a blazer. Everyone must have a secret stash of gorgeous warm weather clothes just waiting in their closets for days like these.
Here are two approximations of outfits I was inspired by yesterday at Safeway:
Blazer – There's no sense in paying extra for a well made quarter of a jacket that will be only worn three times in this freezing city. This version is $25 for Forever21.
Tank – Also from Forever21.
Skirt – Her skirt was cuter that this, but you get the idea.
Shoes – A summer wedge with a peep toe. This girl was really tall and was rocking the platform wedge.
Dress – Way to look like a vixen while picking up a case of soda on your lunch break, anonymous girl!
Shoes – Adorable!
It's on! I'm going to spend an hour tonight planning the perfect ensemble to wear to work tomorrow.