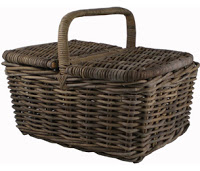 Inspiration: Baskets from The Conran Shop
How many places do you think I could register before officially being labeled a crazy person? How about just Gump's, Sur La Table, Crate and Barrel, REI and The Conran Shop? It's not that I want that much stuff, it's just that each store has a few things I really love.
If I had to pick just one, it would probably be Conran. Every single thing at The Conran Shop is perfect. I fell in love with their new baskets last night. This picnic basket for $48 honestly kills me because it is so ideal. As do its other basket friends.
The Conran Shop had better get their online registry going in the next 10 months. I'll come over there and design it myself if I have to.