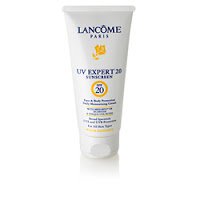 Things I Love Today: Super Sunblock
When I first bought Lancome's UV Expert sunblock, I didn't like it very much. It was super thick and sort of left a white residue on my already extremely pale skin.
But then I realized that it contained that fancy, just approved from Canada, mentioned repeatedly in Vogue, Mexoryl UVA ray block mojo. And decided to continue giving it a chance.
Two weeks and about 30 hours in the sun (I walk to and from work) later, I'm a convert. My skin has improved a lot and I've gotten over the residue issue. As a serious sunblock conessouir, I would glad continue paying the semi-outrageous $35 price tag for this super block. Think of the money it will save you on skin cancer zapping later down the road.