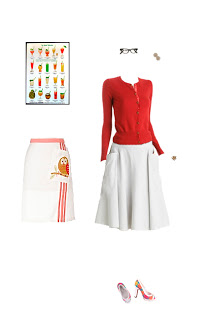 What to Wear: 1950's Cocktail Party
Costume parties are the best kinds of parties! Melissa is hosting one in a few weeks:
I have been reading through your archives for the past few days, and I absolutely love your blog. I am an urban girl living in the PA country, and at least I can imagine that I can walk to my favorite things, find organic foods, eat at great restaurants, and live a somewhat normal existence while reading about other people in the blogsphere (oh my, that sounds pathetic).

Anyway, I was hoping you could help me out. I am hosting a retro cocktail party on June 1st. Most of the guests and I are teachers, so it will start at 4:00pm. I'll be making 50's inspired appetizers, like pigs-in-a-blanket, deviled eggs, and sweet-and-sour meatballs (updated and from Epicurious, of course), offering sidecars and champagne cocktails as my retro beverages, and while I'm not requiring it of others, I want to dress the part.

I have a 3/4 sleeve, fire engine red, silk blend cardigan with pearl buttons, but I need something to pair it with. We don't have much in the way of vintage shopping out here. Any suggestions of what to wear to truly set the tone would be greatly appreciated!
After reassuring Melissa that city dwellers dream just as much about living in the country, away from public transportation, exorbitant rents and neighbors with grand pianos, I found just the right things to complete her costume. Melissa will be looking cute in something like this:
Sweater – Standing in for her own cardigan.
Skirt – This circle skirt from Calvin Klein for $70 is just perfect for this costume party and also for the rest of the summer with more modern accouterments.
Shoes – Bright plaid peep-toe pumps for $34 from Delias.
Apron – Kick up the kitsch with a vintage inspired apron from Anthropologie for $15.
Glasses – Cat eye glasses for $7 make this into a full-blown costume.
Earrings – Perfectly old fashioned from Forever 21 for $5.
Ring – It matches for $4!
Retro Cocktail Poster – From Arkiva Tropika.
I have a strange craving for a Tom Collins and a cheese log all the sudden! Have fun at your party, Melissa!