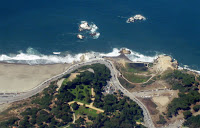 Weekend Round-Up: Riding and Relaxing
This was a nicely balanced weekend. Friday, after work, we went to the climbing gym for one last wear-out of the week. Back at home we ordered a big pizza and watch the last of the Flight of the Conchords.
The sun was finally out again on Saturday morning. Perfect for a long bike ride! We got out the tandem and went for a lovely 20 mile ride around the coast of the city. First down to China Basin, a neighborhood that is quickly going from empty lots to fancy office building. From there we rode past the circus and the ballpark, past the farmers market at the ferry building and the tourists at fisherman's wharf. We encountered our first hills in Fort Mason and the Presidio, tough going!
Finally, all the way to Sutro Park (my favorite) where we sat and watched the big waves along ocean beach. Then back on the bike to ride a couple more miles home through Golden Gate Park. We could barely walk once we finally got off the bikes.
Back at home we zonked. A couple hot baths and a bit of Lego Star Wars, the easiest and most fun video game! At 5:45, we headed out again. This time for three miles on foot to a dinner party at my cousin's apartment. Great vegetarian food, wine and conversation. We walked back home around 10:30.
Sunday morning was pure lazy. I stayed in bed until after 11 with the Sunday paper and a coffee. Showered and dressed only to run some errands in the neighborhood and get nachos at a taqueria. Back at home, I devoted myself to preparing blog posts for the week ahead, designing a site for the Ladies Activity Club and writing an 18-page manual for starting your own LAC that will be for sale on the site soon.
It felt really good to get so much done! And I finished just in time to watch Persuasion on PBS.