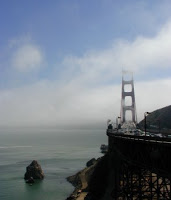 Urban Girl Alamanac: Tough Week
I hope I don't have another difficult week like this one for a long while. Bad weather, drama at work, neighbor being loud, more drama at work….ugh. Here's what I learned:
I can survive a full week without a car in the city during the worst storm of the past decade.
I love George Elliot.
Canceling the cable TV has resulted in watching more international news, getting more sleep, reading more and doing more fun things outside the apartment. Pretty good!
Mmmm…homemade chicken soup with mushrooms and white beans.
My resolutions to be thicker skinned/more tough are definitely works in progress at this point.
Blog readers make for the best cheering squad.
I'm obsessed with the Flight of the Conchords.
A new healthy grocer has opened up in the neighborhood. I love the way the city is constantly being reinvented.
Wedding Wednesdays seems to work
I need to be better about standing up for myself.
A family friend sent me a pair of fantastic red cowboy boots!
Rob's so great. He did the laundry and brought me Chinese food when I was feeling down last night.
I'm going to the climbing gym three times this week?
The sun is coming out as I speak and the weekend is supposed to be bright and clear. Plus, we're invited to a dinner party at my cousin's! Things are looking up.