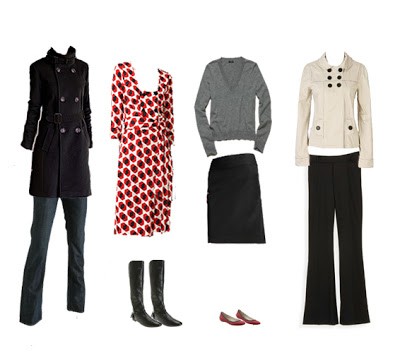 What to Wear: Winter Essentials
Winter in California really starts in January, so it is appropriate that I'm just now getting around to Jenifer's request:
I am wondering what you consider to be the essential pieces to any wardrobe for the winter. I work full time and I like to be a little dressy but I don't wear suits or anything. I wear skirts a lot and wonder what your recommendations are as far as skirts, blazers, sweaters, dresses, and pants are for a working wardrobe that can also be worn on the weekend. I also seem to have trouble accessorizing. I love to wear jeans on the weekend so I'd like to purchase blazers and sweaters that can be worn with jeans as well as skirts and dressier pants.
I love essentials! You'll always have something to wear if you have the following around:
Pencil skirt – Perfect with pumps for work or kicky boots on the weekend.
Trousers – I love Club Monaco pants for work.
Wrap Dress – A dress with long sleeves is perfect with opaque tights and boots in the winter. You can often find DVF dresses at Nordstrom Rack on sale.
Sweaters – Lots and lots of sweaters. I wear nothing but sweaters all winter long it seems. Long sleeved tees are useful for layering underneath.
Light Jackets – Little cover ups are great at work and with jeans on the weekend.
Jeans – A straight leg pair is good tucked into boots or keeping out of the puddles with flats.
Coat – A black wool coat goes with everything.
Flat Boots – Warm and comfy.
Flats -I love a pair of red flats. Great with pants or with opaque tights.
Throw in some gloves, scarves, a cute handbag, some more sweaters and you're basically set for the winter!