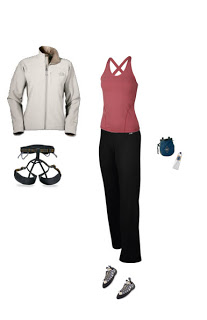 What to Wear: Rock Climbing
Thanks for all the nice notes. I'm feeling a bit better. Looking forward to a hot bath and relaxing tonight. In addition to being grumpy, I'm also way sore from being at the gym too many times this week. Maya is a fellow climber looking for style tips:
I'm a big fan of your blog and always find your posts inspirational. One of my new year's resolutions is to improve my rock climbing skills, meaning it's time to invest in some gear! It seems like you're an avid climber, so I was wondering if you could lend some recommendations on gear that you like (harness, shoes, etc.) and a cute, but practical climbing outfit. Most of my climbing will take place indoors at a gym, but I plan on doing outdoor climbs once I hone my skills.
The key advice is to never wear shorts rock climbing. Shorts + harness = bad things happening. Here is my recommendation for Maya:
Tank – Climbing gives you a really toned back and arms. Show them off with a flattering tank.
Pants – Stretchy, yoga-type pants are my favorite. You'll protect your knees from scrapes and avoid the horrible shorts disaster. Really good climbers usually prefer jeans. Dark colors help you look cool and intense when you're covered in chalk by the end of the night.
Shoes – I got a pair of these last year. Very sticky with a great edge for those teeny pieces. And remarkably comfortable too. (For non-climbers: these shoes are meant to be really tight and painful; having a smaller foot means being able to cram it into smaller cracks. Think foot binding/point shoes.)
Jacket – For staying warm in between climbs.
Harness – I can't really recommend one model over another, this is Rob's domain. Go to REI and try them on to see which is best for you.
Chalk Bag – Sometimes you can find them with cute fabric patterns in the store.
Tape – For the occasional time that you rip off a piece of a finger mid-climb.
Lotion – L'Occitane shea butter cream really helps to repair the damage to your hands post climb.
Maya will be one stylish rope gun!