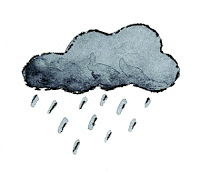 I've got a case of the mean blues (or reds, as Audrey would say) today. I'm in a raging bad mood for a host of reasons.
One of which is royally dumb: because I got a raise. But it was less than the raise that others got and I now I feel bad about my corporate value, ability to work well with others, etc. I'm not feeling pleasant or bloggerie just yet.
I promise I'll get over it and return to posting shortly. After all, this isn't the sort of thing a tough rocker-type would be upset about.