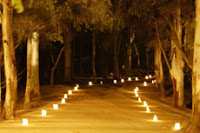 Things I Love Today: Candlelit Ceremonies
There's not much that's more romantic than a wedding ceremony lit only by candles. Rob's cousin had her wedding in a tiny church with no electricity. It was tough on the wedding photographers (us) but so cozy and special for everyone else.
Our wedding will be outside in the afternoon, so I'm passing on this idea. Maybe for renewing our vows 10 years down the road!