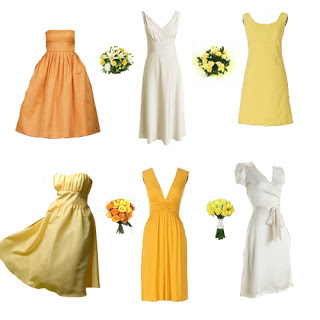 Bridesmaid Dress Inspiration
I'm only having three bridesmaids, so finding dresses should be pretty easy. J.Crew, Anthropologie, even Nordstrom's all have affordable and cute options. Here are some dresses that could work for bridesmaids:
Camilla Dress – I kind of love the "orange peel" color online, not sure how I would feel about it in person. Don't you think J.Crew stores should stock at least one of each of their formal dresses so you could at least see them in person before spending $250 online?
Ivory Sophia Dress – Paired with yellow sashes.
Rain in Spain Shift – Really vintage with a cute, cut out back.
Taffeta Party Dress – Only $68.
Gryphon Tank Dress – Such a rich yellow color! I think this is my favorite choice, but is jersey not wedding appropriate?
Calypso Dress – Satin wrap dress would be universally flattering and with a 1940's feel.