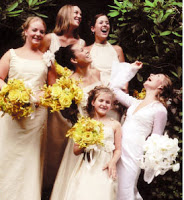 Introducing Wedding Wednesdays
With nine months to go before the wedding, it is time to get serious about planning. I've decided to dedicate Wednesdays on the blog solely to the topic of weddings to aid in my organization.
All in all, I've got quite a bit done thus far:
Booked the facility and set the date (September 20th).
Picked out a (cheap and delicious) cake option.
Booked the caterer.
Hired a photographer/painter.
Designed my own centerpieces and purchases all the vases.
Recruited participants for the show & musician friends.
Started on invitation designs with Jordan.
Nearly finalized the invite list.
Here's what I've still got to do:
Get my wedding dress cleaned and repaired.
Reserve a shuttle service between the ferry pier, parking lot and club.
Pick out bridesmaid dresses and suits for the men.
Have engagement photos taken.
Book a florist for the bouquets and boutonnières.
Plan for the photobooth feature.
Design the favors.
Update the wedding website.
Buy wedding bands.
Work out a million of the tiny details (guest book, veil, etc, etc, etc)
Register.
Plan a grand exit from the reception (so important!)
Plan the honeymoon.
This list actually makes me feel pretty good about where I stand!