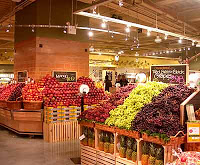 Today's the grand opening of a new Whole Foods near my office in Portrero Hill. Rob and I braved the crowds at lunch (largely for the free samples and tote bag).
The strangest part of the experience was the spa menu handed to me halfway through. Whole Foods has a spa? Massages, facials, waxing…produce?
Has anyone been? Details to share?