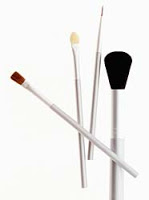 Wedding Planning: Make-up
Here's the question: Do I need a make-up artist for my wedding day?
I'm already planning to have my hair done (my hair being impossibly fine and curly and in much need of a professional taming). I think I'm pretty good at doing my own make-up. Do I need a $150 make-up pro to come in before the wedding? Or could I put half that toward new cosmetics to just apply myself?
What do you think? What were your experiences with wedding make-up?