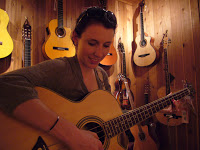 Things I Love Today: Driving
Walking everywhere, everyday is great exercise. I get 3+ miles a day in on average. But even an urban girl can occasionally get tired of constantly schlepping around town by foot. Luckily, Rob and I have a new four seater car that has opened up a new world of car-based city fun!
Last night, Rob and I picked Matt up from the Caltrain station and drove to the climbing gym. We bouldered for an hour; until our arms were totally dead. Back in the car to drive to Guitar Center on Van Ness. We bought ukelele strings and Rob tried to get me to buy an enormous bass guitar:

From there we drove up to Russian Hill and down Lombard Street – the twisted, touristy part – for dinner at In-N-Out.

Mmm…grilled cheese, fries and a chocolate milkshake! After dinner, we dropped off Matt and drove home on Market Street with the radio up loud.
I'm so glad we bought the Honda Fit; it has turned out to be perfect!