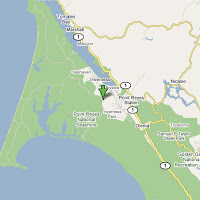 My family is starting to arrive in San Francisco today for the big event this weekend. My cousin is getting married, the first family wedding in a long time.
On Sunday, we're going to drive up to Inverness to stay in a rental house through Wednesday. Our little arts and crafts "cottage" recently sold for $1.6 million dollars and borders up to Point Reyes national park. Sounds just right!
Knowing us, the weekend will be full of long walks, reading, eating, happy hours, more reading and some board games. I can't wait!