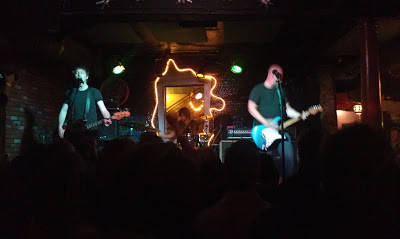 My business trip to Vegas last week was completely exhausting. After standing for 12 hours at a time, for three full days – I was ready to never use my legs again. Of course, the city had other plans for me!
On Friday, Rob and I had a quiet dinner at home before meeting Yvette at Bottom of the Hill. Bob Mould was playing as one of the highlights of the Noise Pop festival, celebrating it's 20th anniversary. It's an awesome, tiny venue and we had a great time at the show.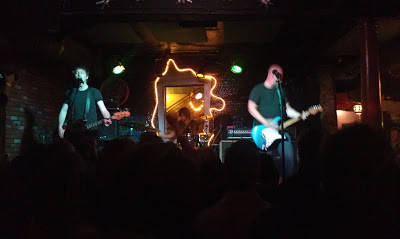 Rob felt ill suddenly near the end – either food poisoning or just overheating in the crowd – and we caught a towncar home before midnight.
On Saturday, I was very lazy. Rob left in the late morning for a bike ride and I watched Downton Abbey online – I had only managed to see the first episode of the second season. At 12:30, it was time for a break to drive over to my hair appointment in Dogpatch. Since the weather has been so dry, I let my stylist do a blowout. It's hard to believe how long my hair has gotten: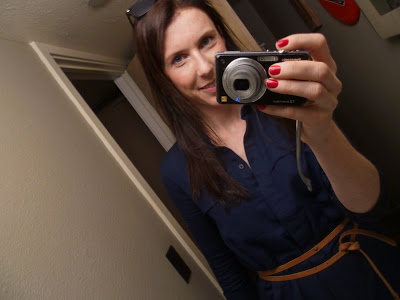 Back home, I watched the remaining hours (many hours!) of Downton in between a few chores around the house. When Rob returned at 5:00, I was on the final episode.
We hurried over to meet Seth & Amy for dinner at Tropisueno that evening. They're expecting their second baby any day now. After a gigante Mexican dinner – with lots of chips and margaritas – we walked around Yerba Buena and picked up cream puffs from Beard Papa while their little girl admired the museum courtyard.
Sunday morning: Rob and I had a leisurely breakfast of bacon, scrambled eggs, toast and coffee – along with blood and ruby red navel oranges.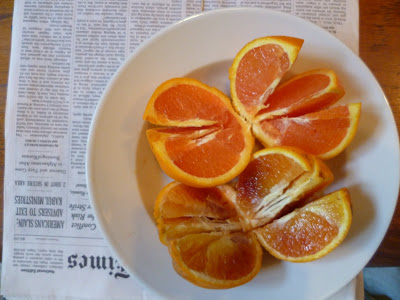 I read the paper while Rob worked and did laundry. Brrr. It was so cold outside -very hard to motivate from our cozy dining room table.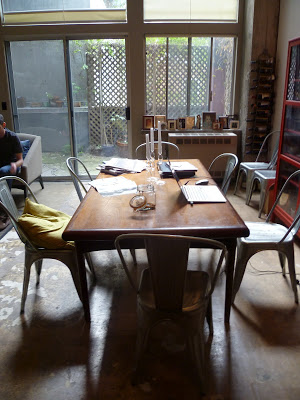 Shortly after noon, we braved the cold to walk over to the Asian Art Museum for their special maharajah exhibition: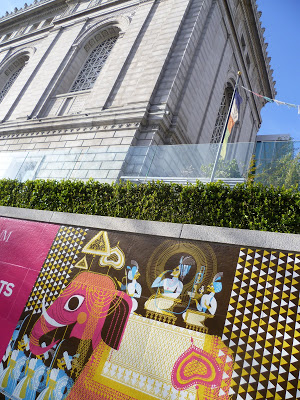 So many amazing Indian jewels! One necklace had 1,000 carats of diamonds alone. Rob and I had lunch in the cafeteria and wandered the rest of the permanent collection.
On the way home, we picked up supplies at Farmer's Market and did some window shopping in Union Square. Margaret came over soon after we returned. Pizza delivery for dinner along with a good bottle of wine. She and I played Lego Batman on Xbox for an embarrassingly long time – we have absolutely no skills at the game, but it is so fun!