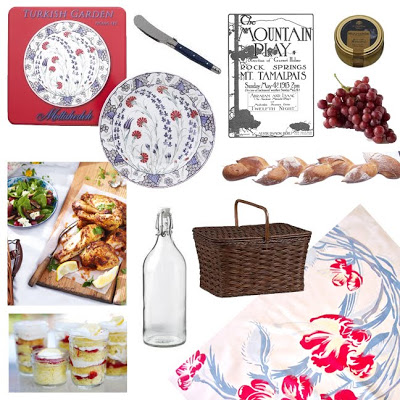 We just bought our tickets to Mountain Play for the summer! This year, I am determined to win the picnic contest and have finally invested in Mottahdeh tin plates for the occasion.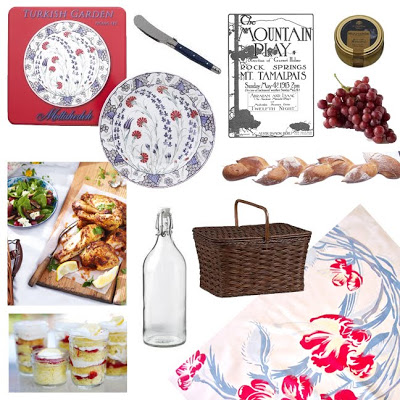 This will be our 5th (?) year at the play and we have it pretty dialed in. Arrive very early, bring plenty of sunblock, the Sunday paper, inflatable sleeping pads & water and nab a spot in the shade.
Plates– Iconic American china patterns in the convenience of tin plates!
Spreader – Laguiole brings some extra flair to the picnic cheese.
Truffle mustard – A favorite guest at several of our annual affairs.
Roast chicken – Cold roast chicken is the easiest picnic food. I usually buy two at Whole Foods, but this recipe from Australia looks delicious too.
Bottles – So convenient from Ikea. We pack them filled with mint and lemon and then refill on the mountain.
Basket – From my dad!
Bread – Pain epi from Acme bread turns the chicken into little sandwiches.
Cloth – A vintage printed tablecloth from Etsy for only $14 ties it all together.
Cakes – Baked right in their own caning jars!