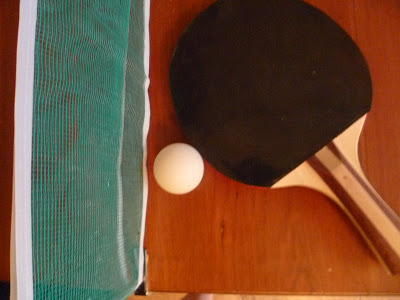 Weekend Round-Up: Lost in Marin
What a gorgeous weekend! Every year, just when you should be inside doing your taxes, San Francisco get sunny days in the upper 70's. The perfect weather for our first ping pong match of the year. We meant to go out on Friday, but I was in a dour mood and staying in was much more fun: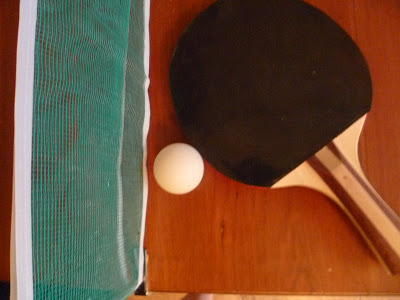 We had a lazy morning on Saturday. Cereal and coffee while watching 30 Rock and Parks & Recreation on Hulu. Just before noon, Nicole came to pick me up for a bit of light hiking in Marin. I warned her before we left that I have a tendency to get very lost every time we go there.
We set off from Muir Woods with a vague idea for a 4 mile round-trip hike to the coast. Hmm, we seemed to go straight uphill for a long way. It made for a good photo…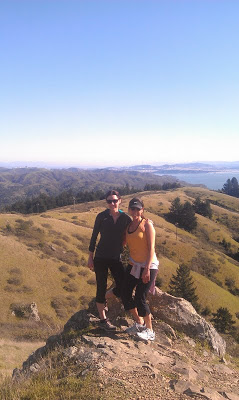 …but also meant that we were way off course. There are just too many trails in Marin. A long double back got us on the trail with only a few more confusing check points. We didn't bring any snacks, maps or money with us, but did have water and cell phones (and, could literally see our apartments from the tops of the hills).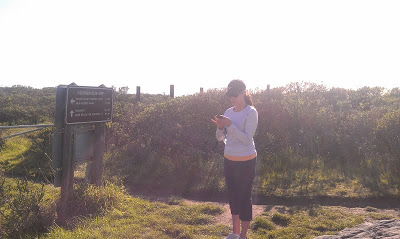 By the time we got back to the car, our 4 mile hike had turned into a 12 mile epic and I had taken a brief dip during a creek crossing. Quick dash down the mountain to get an early dinner in Sausalito. Fish hooked us up with ceviche, fish and chips and local beer. Rob met us after finishing his bike ride in Marin.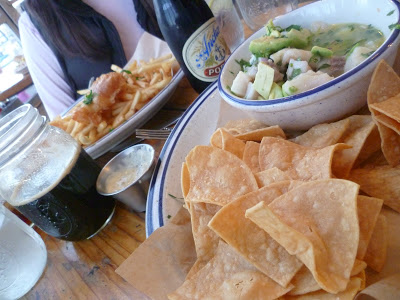 Back home at 7:00, I took a hot shower and Rob and I watched Hugo.
Sunday, we had a quiet morning with the paper and coffee before embarking on a spring cleaning of the apartment, especially the upstairs closet.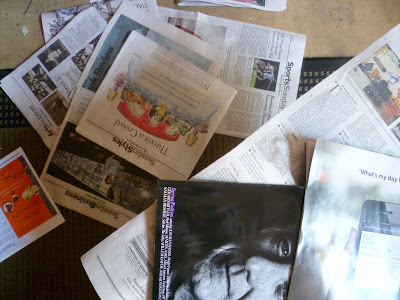 I made super tasty brunch sandwiches with cheese jalapeno rolls from farmer's market, eggs from Rob's parents' farm, leftover chili verde, kale, shallots and purple cabbage.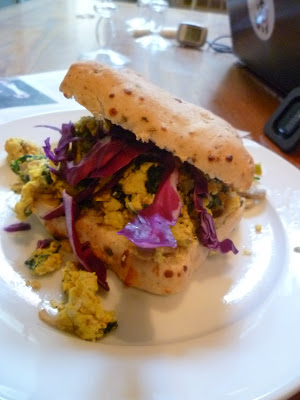 After brunch, we walked downtown in the heat to do some shopping. Both Rob and I are headed to SXSW later this week for work and needed to spruce up our casual wardrobes for the conference. Rob found skinny jeans at Levi's and I picked up some cute bright trousers at H&M. A pair of sneakers at Adidas for me and then ice cream cones from Super Duper in the park. My legs were really starting to feel the results of all that hiking at this point: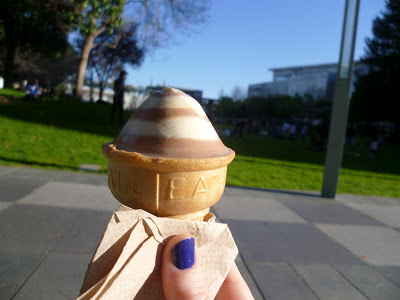 A few more errands on the way home. Rob stopped to have his hair cut at the neighborhood barbershop. Quiet evening including a hot bubble bath. My poor legs had better recover in time for Austin!