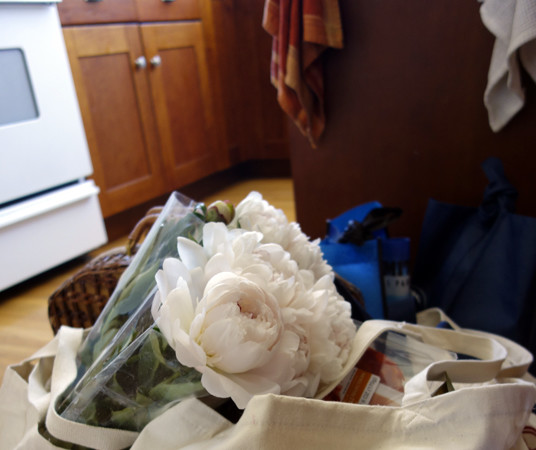 You know I love a good theme! This weekend was focused around our annual picnic for Mountain Play – an extra special one with it being the 100th anniversary of the program. This year's show was Sound of Music and we went full Bavarian on both Saturday and Sunday.  (disclaimer: I did zero research on actual Austrian food, know that German-culture is different than Austrian and fully realize the irony that Sound of Music is centered on escaping German influence – it's an artistic interpretation)
On Saturday morning, I got up early to run to Trader Joe's before my hair appointment. Loaded up on sausages, crackers, wine and other supplies for our party of 16 people. Plus, lovely white peonies to spruce up the house for last minute overnight guests!
Spent the afternoon cooking up a storm and sorting out the picnic supplies. I'll share the full menu and recipes tomorrow. Here's a preview of five varieties of grilled sausages:
I also cut kerchiefs from a pair of hideous old curtains to go with the theme:
…and did some more cooking. I love spending a few hours busy at work in our pretty kitchen!
My good friend Shane arrived in the late afternoon with his friend, Maryam. We chatted at the house for a while, then set off for dinner in Hayes Valley.  First stop, Biergarten for german beer and pub snacks!
We continued the theme with dinner at Suppenkuche complete with wiener schnitzel and spätzl!
Continuing with the Sound of Music theme on Sunday morning, we had an epic voyage on foot to cross a major border.  Up very early on Sunday morning, we had to carry picnic supplies on foot to where I had parked our car on the other side of the Bay to Breakers race route.
Rob rode his bike to the top of Mount Tam, while Greg, Kevin and Margaret joined me in our second obstacle of the morning: Tour de California. You can tell summer in the city has officially started with weekends this crazy! We made it to the top of the mountain at 9:30 and got a great picnic space in the shade. Incredible view of the bay:
Everyone arrived at the top of the mountain before the play started. We donned the kerchiefs to match!
And the massive picnic began:
Along with all the food I prepared, we had a ton of delicious contributions from everyone else.  It was such an amazing feast that it literally stopped traffic and a local newspaper reporter interviewed us. Delicious victory!
The play was very well done, with talented children and an amazing singer in the role of Mother Abbess. It was so much fun, and such a beautiful day with our friends:
Very excited when they announced that next year is South Pacific – my favorite! We packed up the picnic and drove back down the mountain to get home at 6:00, completely exhausted.
Rob leaves for London tomorrow and I'm off later this week to join him in Scotland. A lot of packing and preparations to do before my friend Nicole comes to housesit!