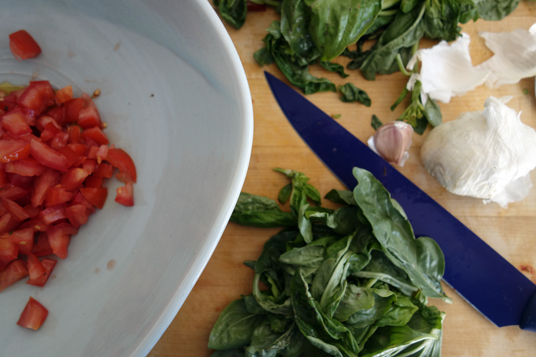 Recipe: Bruschetta Pasta Salad
By request, here's the recipe for the easy summer bruschetta salad I made for dinner on Sunday night. Bruschetta is one of my favorite things to eat during summer. The smell of fresh basil never fails to make me nostalgic for trying out recipes at the beach as a kid. This pasta version of bruschetta replaces crusty, freshly-grilled slices of baguette with durable noodles. It's much more flavorful than your standard pasta salad: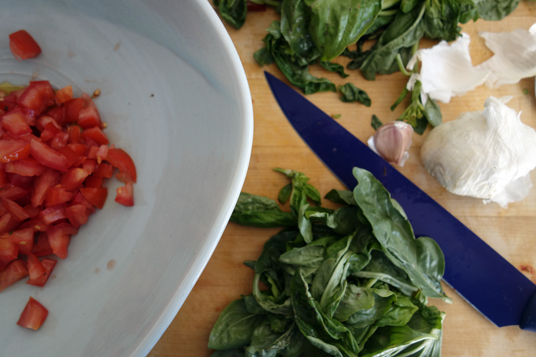 Bruschetta Pasta Salad
Serves 5


1/2 box of rotini pasta
3 or 4 good tomatoes
1/2 a cucumber
1/2 cup of fresh basil
1/3 cup of feta cheese
3 cloves of fresh garlic
1/4 cup extra virgin olive oil
2 tablespoons balsamic vinegar
Sea salt to taste
Boil water for your noodles. Seed the tomatoes and chop into small pieces. Peel and lightly seed the cucumber and chop into small pieces. Add the tomatoes and cucumber to a bowl with the olive oil. Microplane (or finely mince) the three cloves of garlic on top. Add a splash of balsamic vinegar and salt and set to the side. The garlic will infuse your tomatoes and add a lot of flavor to the finished dish. Add the noodles to the boiling water.
Drain the rotini when cooked and rinse with cold water immediately. Toss the noodles with the tomato mixture. Add the chopped basil and crumbled feta cheese to the salad. Top with the remaining 2 1/2 tablespoons of balsamic vinegar (you should have enough olive oil, but you can add more if needed) and toss. Add salt to taste, you shouldn't need much thanks to the feta.
You're ready to serve right away. If the salad is being prepared in advance, I suggest mixing everything together but the fresh basil, which will blacken while refrigerating overnight.