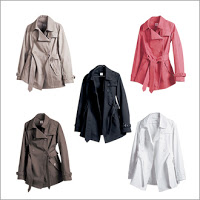 Bargain Finder: $40 Trench Coats
La Redoute has classic short trench coats in six colors for only $39.95 a piece. Or you can choose from the same colors in a longer length for $44.95.
I would love to add the rose version to my collection of spring outwear! Since they're so inexpensive, you wouldn't have to worry about getting it dirty, losing it or using it as an impromptu picnic blanket.