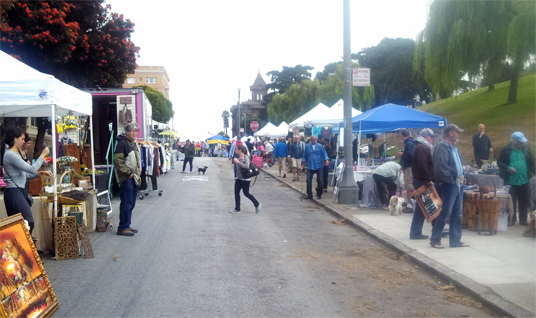 For the first time in what seems like ages, we stayed in San Francisco for the weekend! And the weather even complied, bringing our late sunny summer. The occasion? Rob's parents came to visit for the weekend from Sanger. We started out with thai for dinner down the street, followed by It's-Its and work on a massive 1,000 piece puzzle of San Francisco.
The next morning, we followed an oatmeal breakfast with a walk down to the Alamo Square Flea Market. I had low expectations for the market that were completely unfounded. We found so many great items, at great prices – including an antique embroidered tablecloth and owl trivet.
After the flea market, we took the bus down to Marina Green to watch the preliminary race of the America's Cup. The USA Oracle boats were practicing before the race started. With the new foil design, these ships fly above the water at speeds up to 50 miles per hour. There was also a cute kids race on the bay.
Unfortunately, a technical issue with the Italian boat made the actual race over in about 30 seconds. Oh well! We walked around Crissy Field and the Palace of Fine Arts before taking the bus home and taking a rest. Woodhouse Fish Company for dinner followed by more work on that puzzle.
Sunday morning with the paper and chocolate croissants fresh out of the over (thank you Trader Joe's!). We drove out to the Botanical Garden in Golden Gate Park. I haven't been a long while and forgot just how pretty the gardens are. This is the Japanese-style moon viewing pond.
Lunch at Pacific Catch by the park. They make a wasabi bowl with tuna, seaweed salad, radish sprouts that is so good. On the way back to the car, we stopped at a dahlia show. I am so, so glad we did! The hall was absolutely packed with bright, candy-colored, Seuss-inspired blooms:
I mean, look at this:
And this:
Seriously, I think it would be impossible to frown in that room:
Way to go – Dahlia Society of California! After all those flowers, we drove over to Ocean Beach to walk along the ocean. The fog was still holding strong for the last mile of the coast line but it was pretty warm. Pelicans were diving for sardines along the surfers.
Back at the apartment, we finished that massive puzzle! Rob's parents drove back home in the afternoon. Rob and I had a relaxing dinner using some of the great tomatoes and peaches they brought out from the valley.