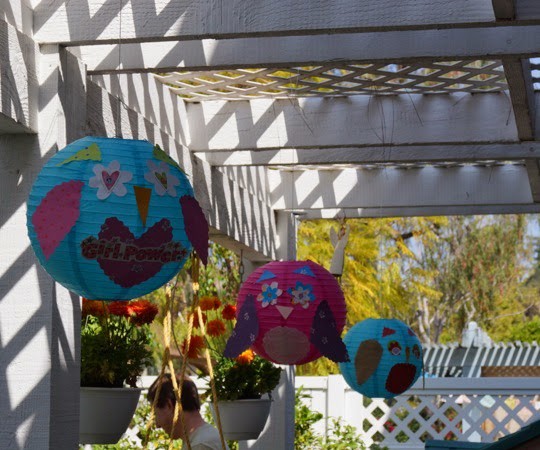 Throwing an Owl-Themed Birthday Party: Look Who-Whoo's Turning 2!
I've invited my friend, Amy, to share some ideas with you while I'm traveling. She's an amazing crafter with two adorable daughters – MrsEm
My daughters are so fortunate to have Emily as a surrogate aunty. As Emily's guest blogger, I am excited to share some details from an owl themed party I hosted with my parents for my daughter, Tierney's, 2nd birthday.
Attempting to engage all of my nieces nephews, ages ranging from 10 months to 8 years old, I prepared several owl crafts. Owls are a wonderful subject to use for kid crafts because the owl form is easily recognizable and can be made from simple shapes.
Recycled Paper Owls – I used a die cutter to cut old cards and scrap paper into circles, flowers, stars and hearts. Other owl parts were cut by hand with regular or patterned scissors. Just add kids (of any age!) and glue.
Owl Masks – I prepared fabric circles ahead of time and an adult had to hot glue the kids' selections onto a mask, but the work was worth it, the masks were a big hit with kiddos and created a great photo set in the nest that Grandpa Charlie created for the party.
The Nest – Thanks Grandpa, this was an amazing photo prop!
Beaded Owl Necklaces – The older girls had the opportunity to create their own beaded necklace with owl pendant. The materials were natural and chunky, hopefully keeping with current jewelry trends.
Goody Bags – In addition to all their crafted goodness, the kids took home an owl goody bag.
Finally, the Food! – Grandma Jo made adorably delicious deviled egg owls.
And I made a gluten free lemon cake (I'm not giving the recipe, because it was un-fabulous) with raspberry cream cheese frosting – which was very fabulous!