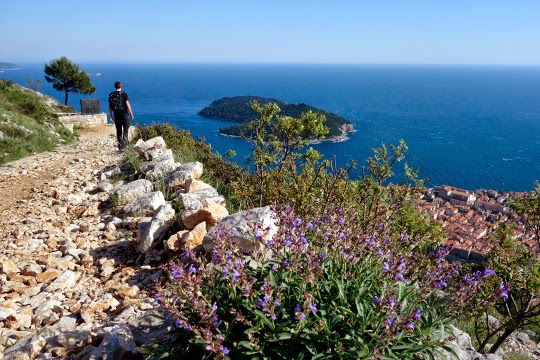 A Panoramic Hike to the Top of Dubrovnik
The minute my laptop arrived on Monday, Rob and I dashed out the door to enjoy the rest of the sunny day with a hike in the hills behind Dubrovnik.
It's not too hard to find the trail. Google Maps doesn't show it, but most of the printed maps do. Just head for the tunnel entrance on the major road and you'll see the path on the hillside. It is wooded and shady for the first third and then rocky switchbacks the rest of the way up. You get great views of the old city walls.
The hike up takes about 40 minutes, stopping to take photos, and is strenuous. If it is even moderately warm out, you should bring a bottle of water. There are stations of the cross along the way as you walk. The fort at the top was built by Napoleon.
A great view of the harbor, Lapad and islands in the distance to the north.
A nice frenchwoman took our photo by the cross at the top.
At the back of the fort, there's a view of the rocky valley and Bosnian border.
We stopped for espresso, ice cream and chocolate walnut cake at the cafe next to the tram station. Yes, if you're not interested in the steep hike, there is a tram to take you from the old city to the summit.
Walked back down the trail, lined with sage and rosemary, in time to make it back for my 5:00 conference call.