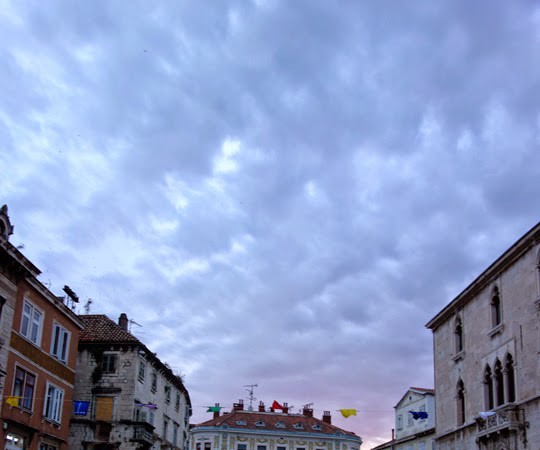 What to See, Eat and Wear in Split, Croatia
Dubrovnik is so, so pretty…but I have to admit that I liked Split a bit more. We were only in the city for three days and two nights. Where Dubrovnik is strictly tourist, Split combines ancient history and tourist sites with real local life and good food. It's a little rougher around the edges.
Basics
We stayed in an airbnb apartment right in the heart of the ancient Palace, with a view of the bell tower from our courtyard. This is the first apartment of our trip that had a gas range! Our host was super helpful. Nicole, Rob and I arrived by car from Dubrovnik and Shane came by plane. We all took the affordable and easy airline shuttle into town for $6. Split is the departure point for pretty much every ferry and chartered ship in Croatia. The bus and ferry terminal is not a scenic part of Split, just keep walking a few blocks before you judge the city.
See
Take a one Euro walking tour through the 4th century roman palace ruins that make up the heart of Split.
Hike outside the ancient city through pristine coastline and Marjan Park.
Shop at the outdoor green markets and fish markets.
Eat a cone of gelato every couple hours.
Sit in a plaza cafe drinking macchiatos or glasses of Croatian draft beer.
Wander the palace courtyard at night and listen to live guitar music surrounded by ancient ruins.
I wish we had time during our stay to rent bikes or go rock climbing in the hills.
Eat
The restaurants in Split are so better than those in Dubrovnik. Sperun was our favorite for dinner. A liter bottle of local wine along with steamed mussels, seafood risotto, roasted sea bass and a traditional fish stew. Great inexpensive seafood lunch at Fife. Another nice seafood dinner at Allegria just around the corner from the apartment. Lots of bakeries and ice cream stops in between.
Wear
With its sea-faring locals, Split is a casual town that prefers boat shoes, shorts and sun-bleached polo shirts. Jeans and comfortable flats are perfect for walking around the old city. Bring your bikini with you to dive into one of the many local swim spots. Sporty clothes including yoga pants and sneakers are ideal for hiking, biking and rock climbing in Marjan.
Buy
I loved the outdoor markets in Split and was tempted to buy all the produce! In early May, there were artichokes, asparagus, strawberries and sour cherries. It's a great place to stock up for your journey on a boat or a remote island. Lots of local wine, honey, paprika, lavender, tea and soaps. Coral and filagree-work jewelry. There are also some great clothing, shoe and purse boutiques inside the Palace area and on the nearby shopping street.
From Split, we headed off to the Croatian islands to continue our last week of adventures in the Mediterranean.