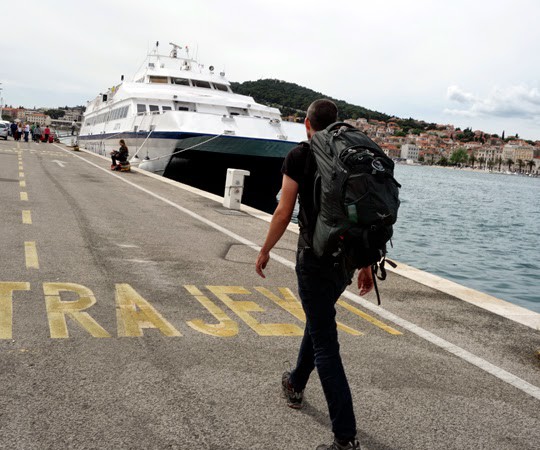 Welcome to Korcula, Croatia!
We were originally planning to sail for a few days on a chartered boat between the Croatian islands, but stormy weather led us to cancel and switch to ferry instead. We left Split on the 4:00 catamaran that stops at Hvar on the way to Korcula (pronounced "Core-chew-lah"). Tickets were only $7 each!
The ferry arrived at Korcula Town at 6:30 and our wonderful apartment host picked us up at the dock to drive us about 100 meters to her apartment. We were in awe of how pretty it was outside!
A quick change and then back out to see that gorgeous sunset.
Cocktail Bar Massimo is on the top of a old guard tower, accessible by steep wooden ladders.
Drinks are hoisted to the top from the ground floor in a basket and pulley.
Beautiful view of Orebic across the channel, the coast and the old city from the top. We were still flipping out over how pretty this town was!
I'm so lucky that my good friends were able to come out to Croatia for this last week of our trip. I've known Shane and Nicole since high school.
Korcula is famed as the birthplace of Marco Polo and the dramatic coastline does make you feel strong wanderlust.
Classic Emily bossypants!
We had dinner at a seafood restaurant next door. Devoured mussels, seafood stew and grilled barracuda. After dinner, we wandered around the tiny old town in the dark.
Spotted the nearly full moon next to a small church near Marco Polo's house.