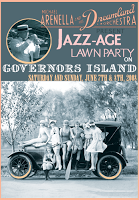 Things I Love Today: Jazz-Age Lawn Party
If you read the Sartorialist, you were probably wondering this week: "What is a Jazz-Age Lawn Party and how can I get one?" I was intrigued.
Every June, the Dreamland Orchestra holds an outdoor concert and event that includes dancing contests, croquet and a pie baking challenge. It looks like a free event aside from the ferry you to take to Governors Island. Love it in concept and in execution. I found more photos of the event on Flickr and a video clip of people dancing.
There's a similar event in England in August at a beautiful estate that includes a proper English tea on the lawn.
If I had any sort of lawn to my name, I would host my own Jazz-Age Lawn Party in a second. I don't know anything about dancing the Charleston, but I have the beanpole figure and taste for champagne punch!