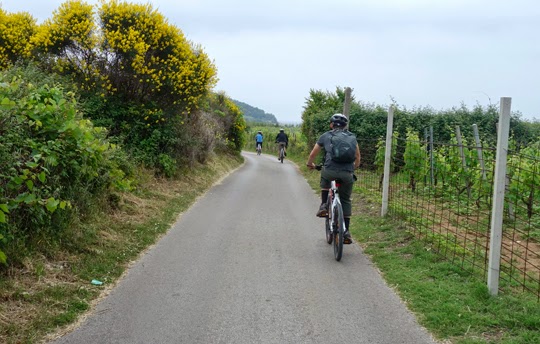 Bike Riding Through Croatian Wine Country Between Korcula Town to Lumbarda
A big storm was blowing in to Korcula in the evening. With our last warm and non-rainy morning, we rented bikes and headed out for adventure.
The ride from Korcula Town to Lumbarda is just about 4 miles, but the rolling hills do make it a little challenging.
Our first stop was the rocky lighthouse on the very eastern point of the island.
Even on a stormy day, the water was pretty and bright blue.
Hiked out to the end and watched the ships sail by for a bit.
Such a strange mix of stones and plants.
Rode back to the tiny fishing town of Lumbarda. There's a special kind of white grape that only grows in the sandy red soil here for Grk wine.
Stopped at the local Konzum market for picnic supplies and ate on the beach wall in town.
That water!
We rode out of Lumbarda and back to Korcula, which is uphill most of the way and a little challenging on our city "cruiser" bikes.
After riding back through town, we continued west on the coast to a pretty cove.
We dipped our toes in the cold water off one of the docks before riding back to town for our dinner party!