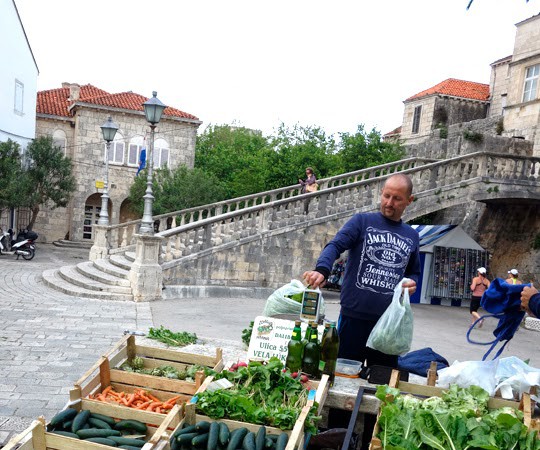 How to Throw a Locavore Dinner Party in Korcula, Croatia
I was so excited to throw a dinner party in Korcula! Our wonderful apartment host was invited to be the guest of honor. After seven weeks of cooking on the road, I was thrilled to see that she had real kitchen with an oven and a gas range.
First step, wake up early. The green market in the center of town is best when you shop there around 7:00 am.  The vendors were helpful in explaining the names and recipes for cooking different local vegetables.
Next, head to the fish market next door – which also closes early. I bought a whole local tuna for about $8. The fishmonger offered to clean it for me when it became apparent I had no clue how to do it. He also gave advice on how to cut and cook the fish. Finally, stop at the local Konzum grocery store for the rest of the supplies needed. It felt pretty strange to be walking around town with a fish tail sticking out of my bag.
Arrive home and take stock. I bought butter lettuce, melissa (lemon balm), fennel fronds, young purple onions, lemons, local white cheese, carrots, artichokes, potatoes and onion bread.
We returned home after a day of bike riding to work on preparing the carrots, artichokes and salad dressing in advance. A couple remote meetings before I started cooking dinner.
Our menu started with a light appetizer of mild local cheese drizzled with sage honey, dried pink figs purchased on the Bosnian border and curly onion bread.
We drank a local bottle of rose with the salad course. Butter lettuce and pears dressed with a vinaigrette made with olive oil, lemon juice, onion and fresh lemon balm.
The main course followed with pan grilled tuna steaks topped with a fennel pesto. On the side: broiled carrots, grilled artichokes with lemon and boiled yellow potatoes with paprika. We drank a bottle of local Grk white wine with dinner.
Our guest of honor, Marina, brought dessert: a bowl of freshly picked strawberries with mint and vanilla.
She also brought us some of the famous Croatian "peaches" cookies. The sugar cookies are hollowed out and filled with a fruit/nut mix before being stuck together, painted with watercolors and dipped in sugar.
A wonderful evening in Croatia!