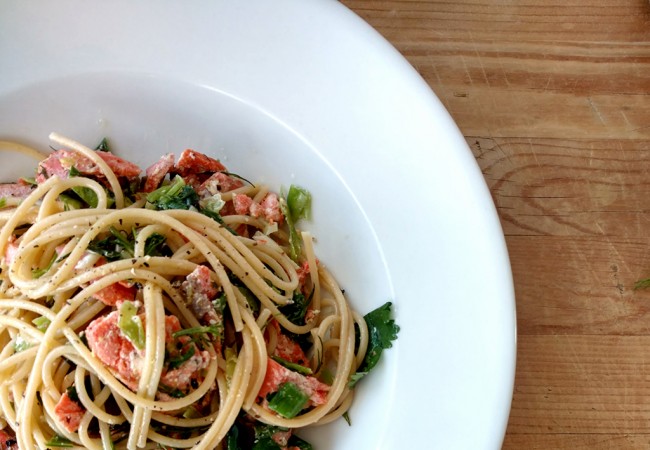 15-Minute Salmon Pasta with Green Garlic and Fresh Herbs
Fresh herbs are my secret to always having something delightful to cook. Thanks to the farmer's market here in the city, I can keep the fridge stocked with a rotating mix of mint, cilantro, oregano, green onions, parsley, dill, basil and more exotic bouquets most of the year for about fifty cents each.
If you have fresh herbs and some kind of meat or cheese, some kind of vegetable, and some kind of carb, you can make almost anything for lunch. Cilantro and madras lentils on garlic naan, cheese tomato and herbs grilled on toast, quesadillas with oregano, falafels with cucumber mint and dill, tomato basil and feta salad…Okay, now I'm making myself hungry.
Continuing my doctor's orders to eat salmon constantly while pregnant, I turned a fridge full of almost nothing but herbs into an easy lunch in just 15 minutes last week. This recipe was easy and elegant enough that I'd serve it to guests at a casual dinner party.
Salmon and Green Garlic Herb Pasta
1 filet of salmon, skin off
Single portion of spaghetti (I like Barilla Plus for extra protein)
1 stalk of green garlic (can substitute leeks or green onions)
1 cup of assorted chopped herbs, in this case: cilantro, mint and dill
Juice from 1/2 a lemon
Olive oil
Salt, pepper and red chili flakes
Start the water for the pasta. If your filet is frozen and sealed, you can "defrost" the packet in the water as it heats up. Otherwise, cut the fish into rough chunks and chop your green garlic and other herbs finely. Add the pasta to boiling water to cook for about 9 minutes. Sauté the green garlic in olive oil in a separate pan until it is tender. Add the fish to the garlic and continue until the salmon is just barely cooked.
When the pasta is almost al dente, strain and add it to the pan with the salmon and garlic and cook over high heat for a couple minutes until things are starting to come together in the pan. Add the rest of your fresh chopped herbs, juice from the lemon, more olive oil if necessary and season to taste with salt, pepper and chili flakes. Eat and get back to work!