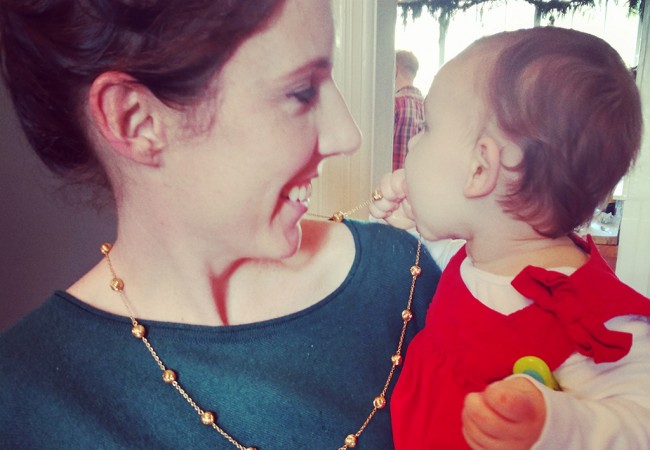 A Make-Ahead Christmas Brunch for 25
A cold Northern California morning. A warm house that smells like spiced ham. Friends with kids dressed up in red velvet dresses. A three hour brunch with our nearest and dearest.  Babies on fruitless but never-ending quests to chew on Christmas tree ornaments. Hostess gift of homemade fudge. I love so many things about our particular tradition of holiday entertaining!
Our Christmas brunch is the largest party we host each year, and also one of the easiest to assemble. Rob and I host about 20-30 people every December on a Sunday morning. I rely on the same reliable menu of easy make-ahead dishes that make this party so delicious and a breeze to prepare.
Christmas Brunch
A 20lb locally-smoked deli (boneless) ham from Robert's Corned Meats – a 100-year old local shop
Savory bread pudding with kale, shallots and gruyere
Citrus salad with amaretto cinnamon whipped cream
Party butters: garlic herb and brown sugar lime
Truffle mustard
Assorted capers and pickles
Acme pain epi rolls
Assorted cookies
Coffee with eggnog
Cranberry punch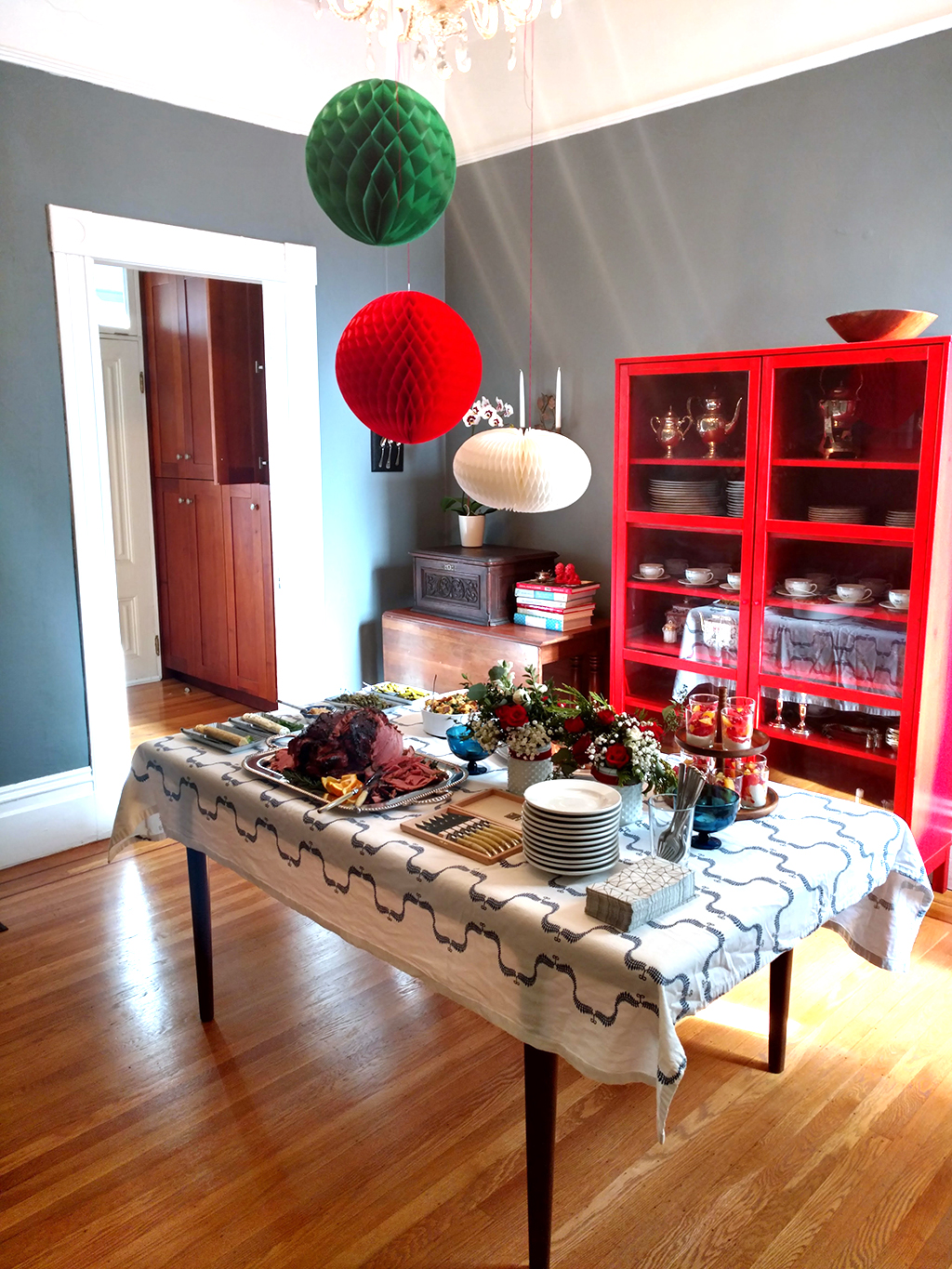 Friday
Two days before the party is time time to pick up supplies. Rob and I swung by Robert's to buy the ham and stopped at the market for so much heavy cream, cheese, bread and fruit. Altogether, food for this decadent party runs about $200, or just $8 a guest. And, you're usually left with enough ham to freeze and use until Memorial Day.
Saturday
First thing in the morning, Margaret and I went to the SF Flower Mart to pick up some extra greenery for the party. And, really, to get pancakes at the great diner next to the wholesaler's warehouse. Wired cedar garland is only $1/foot from the growers there.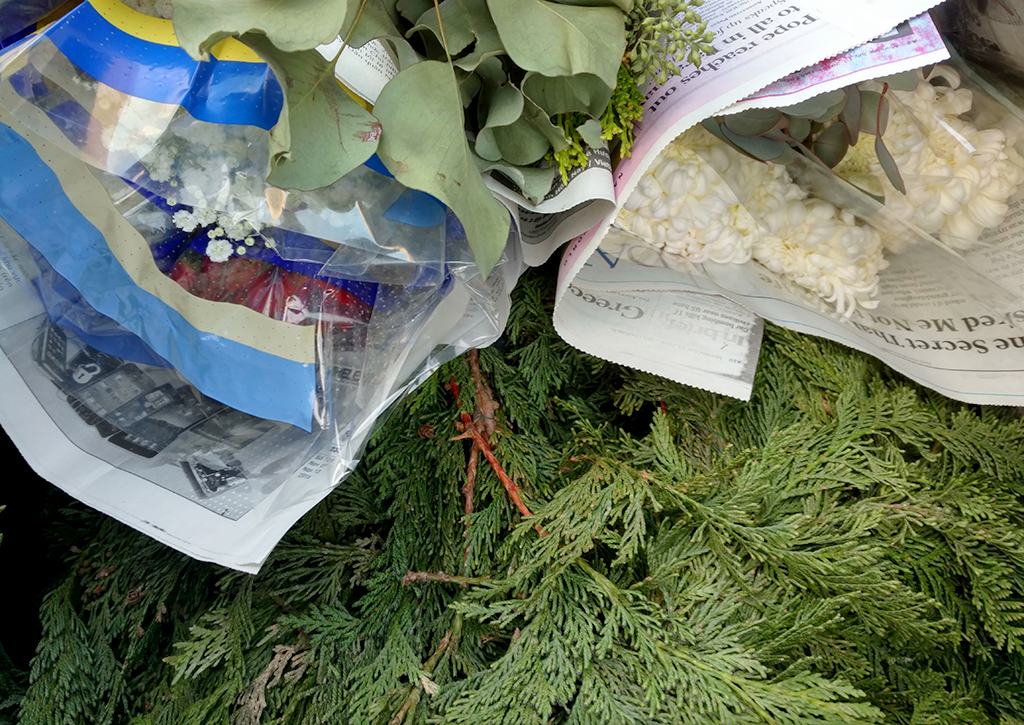 Back at home it was time to prep all the food for the next day. I unwrapped the ham, studded with cloves and coated it with a cinnamon, brown sugar and mustard glaze. Into its pan covered in foil to bake in the early morning the next day.
Materials for the bread pudding came next. I cubed three rustic loves of bread while shallots, garlic and kale cook down on the stove. The bread cubes were covered and left out. The kale mix went in fridge. In an empty milk-carton I mixed the egg and cream foundation for the pudding to be ready for the next day.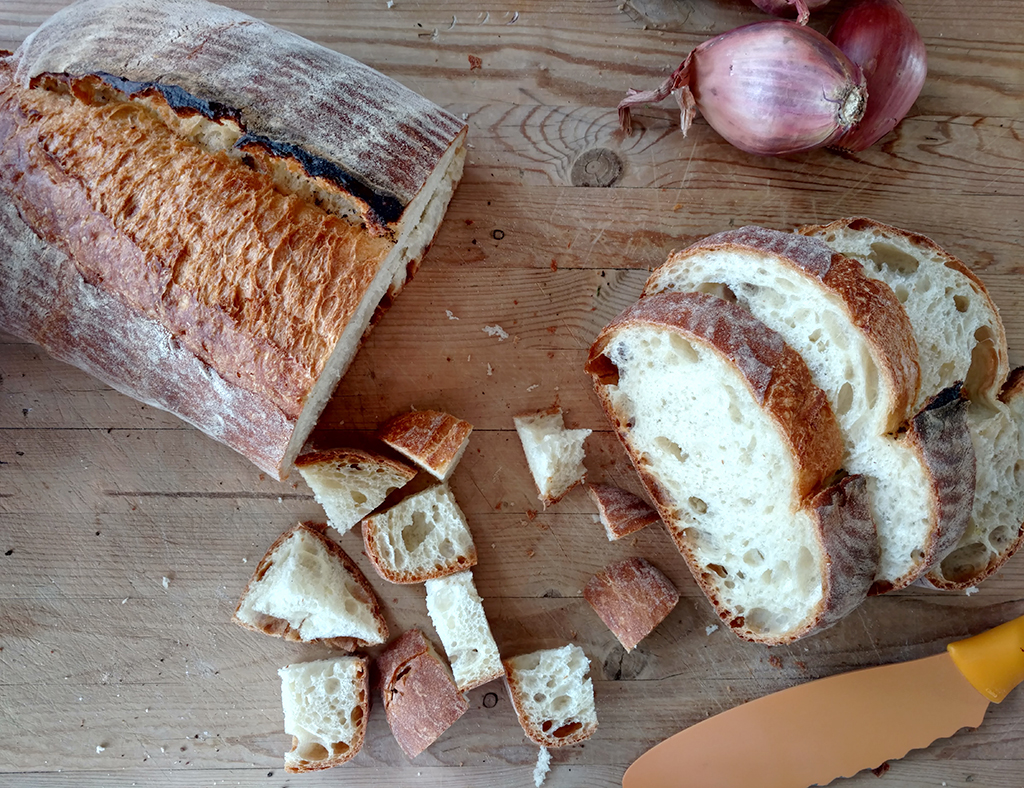 Final step for Saturday was preparing materials for the citrus salad. I've gotten fast at cutting the oranges and grapefruits into "supremes" which is an elegant (but  unnecessary) option if you have the time. Seeded a pomegranate. Mixed cinnamon and a dash of amaretto into the whipping cream to have ready for the morning.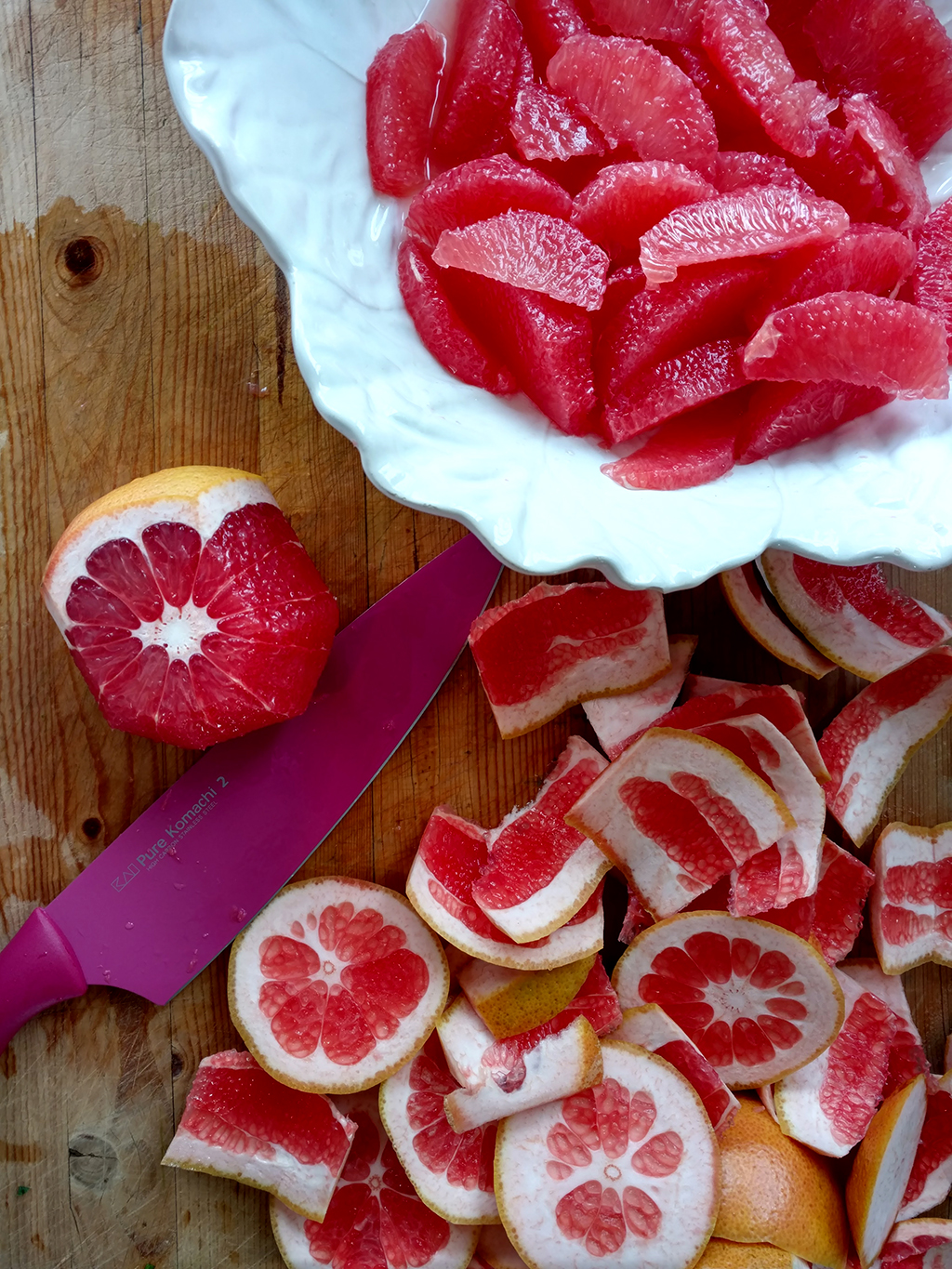 Finally, I made a few "party butters" and wrapped them in wax paper to cool overnight in the refrigerator. All that was left was to set the table, arrange some flowers and polish a few pieces of silver before heading out to that night's holiday parties.
Sunday
The only thing you can't cheat on is setting alarm for 3:30 am to put the covered ham in the oven at 350 degrees. It has to bake for 6 hours and rest for an hour before being served. I'm usually able to convince Rob to do this terrible task.
In the morning, we woke up about 8:00 to prepare for the guests to arrive at 10:00. It was pouring rain outside and poor Rob had to take on one more chore of braving the storm to pick up four loaves of pain epi from the bakery.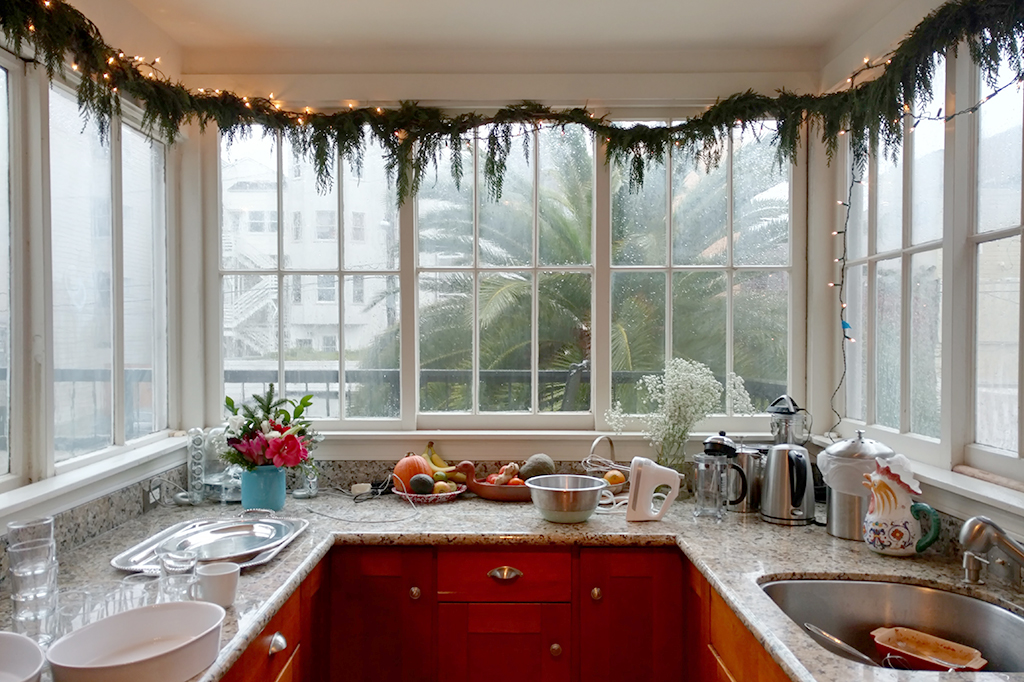 While Rob was on that erranded, I needed to assemble the bread pudding and citrus salad to get those ready to serve. After being mixed with the cooked kale, egg custard and cheese, the bread pudding bakes for 30 minutes. I usually prep two pans, with the second to go in the oven an hour into the event. For the citrus salad, I whipped the spiced cream prepared Saturday and doled it out with fruit on top as small compotes.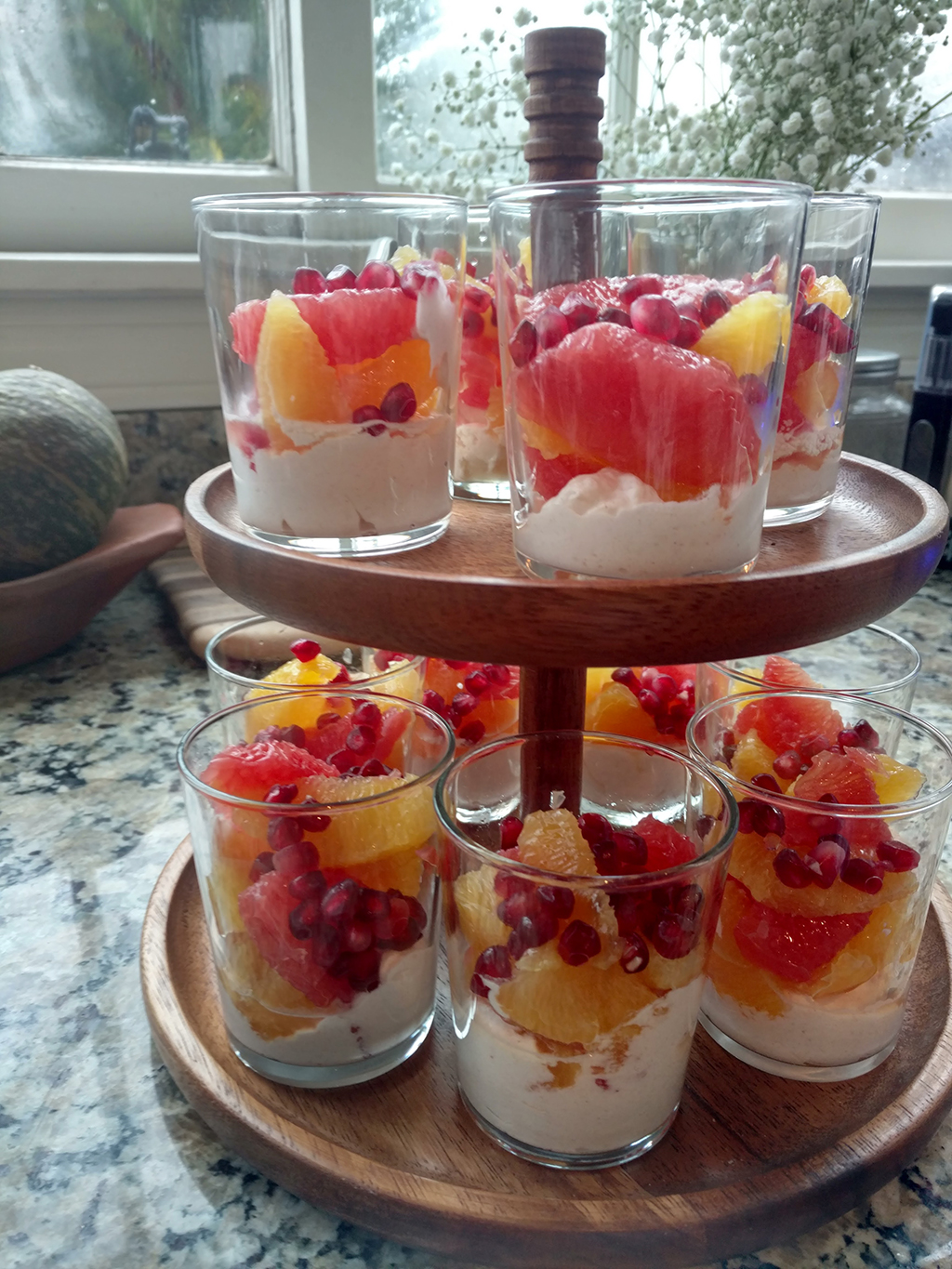 Party butters and pickles went out, the ham was set aside to rest, the first batch of coffee was brewed and Rob and I even had a half hour to relax before guests started arriving.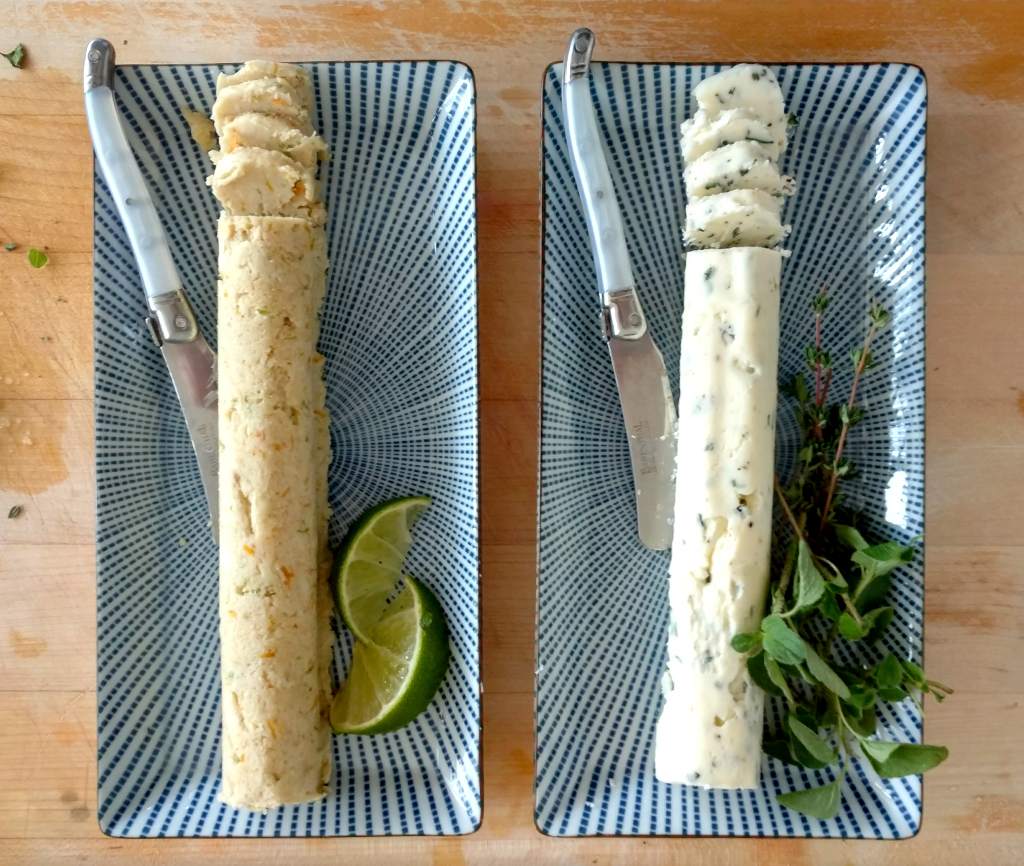 Guests arrived in waves from about 10:00 to 1:00 pm. Batches of warm roles and bread pudding were served across the morning. This year's ham was especially nice!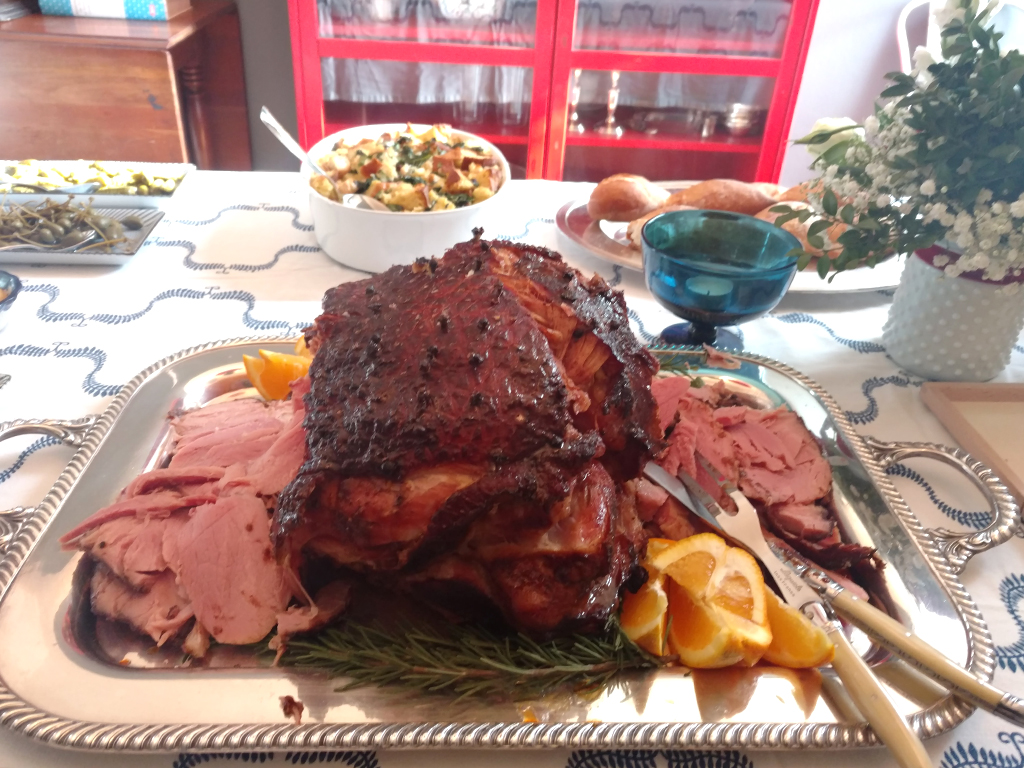 I always forget to take many pictures of the crowd during the brunch. I'm more excited to sit back with a plate of ham and some eggnog and enjoy it!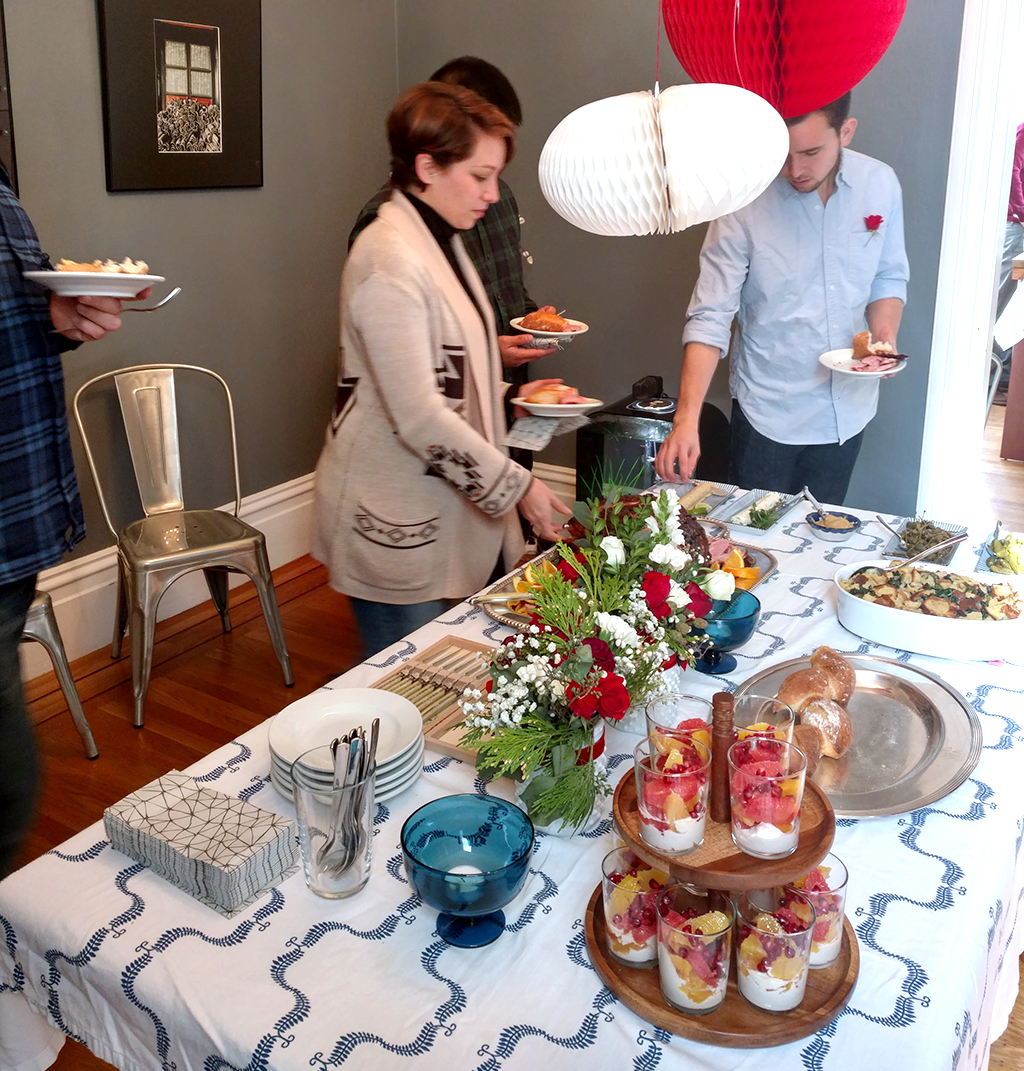 Happy holidays everyone!