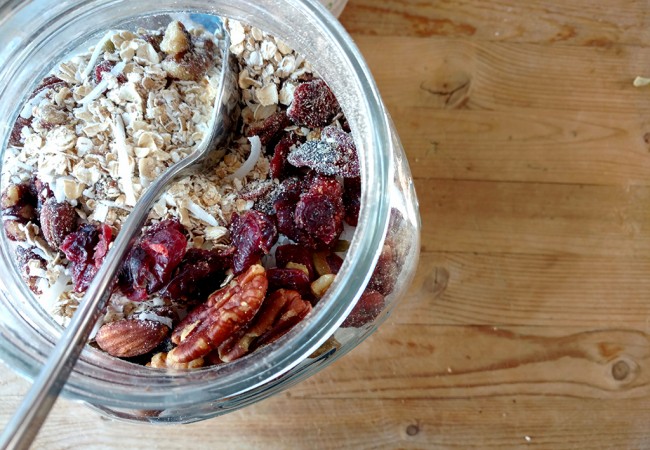 DIY instant oatmeal with flax and coconut
A embarrassingly large element of deciding to start my own business was my desire to not get out of bed in the morning. I love that I have leisurely mornings right now, reading the news and watching Colbert clips, with coffee before going to work in the home office. I come from a long line of talented women who refused to get out of bed early.
In summer, I make greek yogurt with muesli and fruit. In the winter, we switch to a super fast healthy instant oatmeal that only requires boiling water. Much less sugar and way more healthy ingredients than the instant packets you can buy at the store.
My recipe varies a bit all the time, but I generally fill a large jar halfway with 1-minute Quaker oats, a cup of flaxseed meal, a cup of unsweetened coconut, a couple handfuls of Omega Trek trail mix from Trader Joe's (cranberries, walnuts, pecans, pepitas, almonds and pistachios). Plus, ample cinnamon, allspice, ginger and nutmeg.
In the mornings, I just boil water and maybe chop up an apple or banana to go with it. A dash of brown sugar on the top and you're ready to go back to bed!