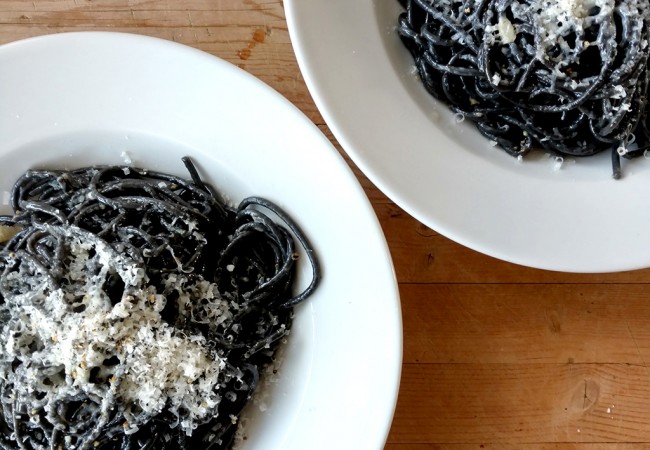 Squid Ink Cacio e Pepe Pasta
Our Victorian apartment in San Francisco looks adorable all decorated for the holidays but our drafty bay windows and high ceilings make it impossible to stay warm. On a cold winter day working from home, Rob and I are bundled up in layers and drinking tea constantly. For lunch in December, it feels like something rich, warm and salty is just the thing.
Cacio e pepper (essentially cheese and pepper) pasta is a super simple recipe to make for a quick lunch. There are all kinds of variations online, but I use the Bon Appetite version. Black squid ink pasta helps add interest to the dish which otherwise looks like just a pile of noodles. Fancy enough to serve for dinner with a green salad and a good bottle of wine on the side.
Cacio e Pepe with Squid Ink Pasta
1/4 package squid ink pasta (much cheaper in our local Italian market than on Amazon)
1 cup finely grated parmesan or perccorino
3 tablespoons of butter (can cut with olive oil if you'd like)
Lots of fresh cracked black pepper
Optional: pinch of red pepper flakes
Boil your pasta according to directions. Grate the cheese with a microplane if not already prepared. In a sauce pan, melt the butter over low heat and set it to simmer with the cracked pepper and red pepper until it starts to brown. When the pasta is almost cooked, move it to the sauce pan with a couple spoonfuls of the pasta water and turn the heat on high. Sprinkling in the cheese a handful at a time while tossing the pasta vigorously. Taste – you might need a tiny pinch of salt depending on the cheese and butter you selected. Top with a shave of cheese and some more fresh pepper.