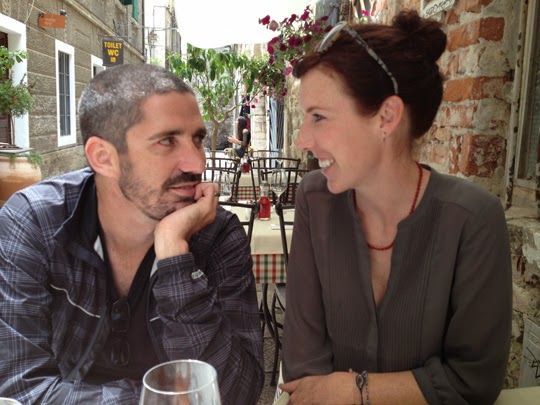 Take a Wine Tasting Tour on a Rainy Day in Korcula, Croatia
(We have just arrived in Chicago today for our last week of travel before heading back to San Francisco. While I wrap up the Croatian reports, I would love your recommendations on things to see and places to eat here!)


We had planned to only stay one night on Korcula, but the storm cancelled our ferry and we loved our airbnb host too much to leave right away. With our second day, we decided to take a wine tasting tour.
The young British expats, John and Rachel, who run Korcula Explorer usually take people on walking wine tours. With the rain and wind, we decided on a van instead. Our first stop was Lumbarda, and the Zure tasting room.
The host started us off with a citrus liqueur along with plates of salted anchovies, aged goat cheese, Croatian bacon, olive oil and bread. The wines were really good and the labels featured art from their uncle, a famous Croatian painter.
After Zure, we drove west on the winding main road to Smokvica.
Took a minute to get some fresh air and a look at the mountain village before starting our second wine tasting.
The Toreta Winery is larger than Zure, with a pretty stone tasting room decorated with antique wine-making equipment. They even had traditional sheep skin wine "bladders" hanging from the ceiling.
We tasted three wines here, two whites and a sweet rose.
Followed by two kinds of rakia, a Croatian version of grappa made from grape skins and then flavored with different ingredients. We tried the lemon and carob varieties – both were really good!
After wine tasting, we returned to Korcula Town and had a cozy lunch of fish and ham stews in a tiny stone tavern.