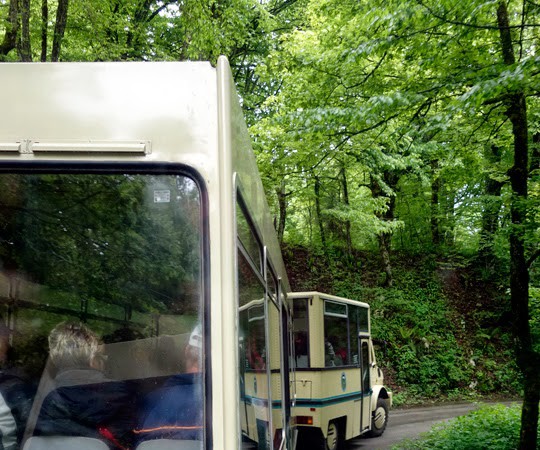 Waterfall Overdose at Plitvice Lakes National Park, Croatia
When life hands you rain…go find some waterfalls! The highlight of our drive from Zagreb to Zadar in Croatia was a stop at Plitvice Lakes National Park. The $15 entrance fee includes access to the entire park as well as free tram and boat rides. With about four hours to explore, we were suggested to take two trams to the end and then hike back.
The park is composed of 16 lakes, with dramatic waterfalls connecting each one.
Wood boardwalks, sometimes barely above the rushing water, wind around the entire park.
The fancier paths have a railing – often on the side where it is least helpful.
Largely, the trail looks like something built by a very industrious, and not-terribly-safety-minded band of hobbits.
It is incredibly, unbelievably pretty.
The tallest waterfalls are about 250 feet high.
The rivers and waterfalls criss-cross and run through the forest for miles.
We took a boat across one of the larger lakes as a "shortcut" where the main path was flooded out.
Most of the tourists were Japanese the day we visited, with a handful of Eastern Europeans too.
The sun even came out as we were on the final hike back.
All kinds of fancy moss and ferns grow on the travertine rock.
There are special birds and orchids only found in the park as well – you could easily spend a full day exploring the area.
I'm so glad we got to see Plitvice Lakes as part of our Croatian adventure!