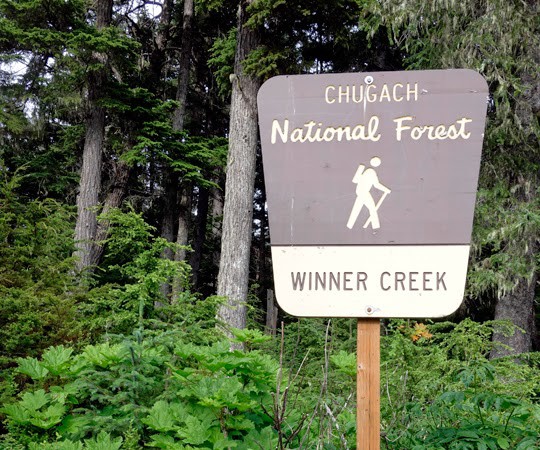 Hike to the Hand Tram at Winner Creek in Girdwood, Alaska
Our penultimate post from Alaska! After visiting Hope, we drove the RV up to Girdwood to get ready to head home. Behind the Alyeska Resort (more on that tomorrow!) there's a trail head for Winner Creek, part of the Chugach National Forest.
This six mile roundtrip hike takes you through the northernmost rain forest in the world. I had been looking for Shy Maiden wildflowers and finally saw them here.
Rolling hills, few mosquitos – lovely hike made all the more exciting because it's part of the Iditarod route and promises a mysterious-sounding "hand tram" ahead.
Past halfway, you cross a bridge over a rushing gorge with teal water.
You've made it to the hand tram in no time at all! This contraption involves a metal basket, rope, pulleys and a steep canyon below. I suppose it is designed so you can pull yourself across in the basket, but it is much easier with someone pulling you from the platform. A unique experience!
At the end of the trail, you reach the Cold Creek Gold Mine.
This property is a functioning gold mine for tourists ($20), a historical site ($10) and a wedding venue. It was getting late, so we didn't go in. You can also walk to Girdwood town from this side of the creek for a 9-mile loop.
Our last new wildflower of the trip: Trailing Raspberry.