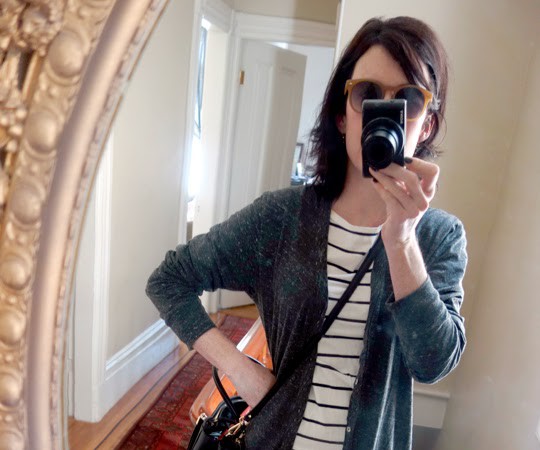 What to Wear: Summer Errands in San Francisco
Busy, busy getting ready for tomorrow's dinner party and the beach weekend ahead. While I work to prepare a rustic Italian meal, here's a look at a quick running-around-town outfit. Layers are a must in our breezy San Francisco summers: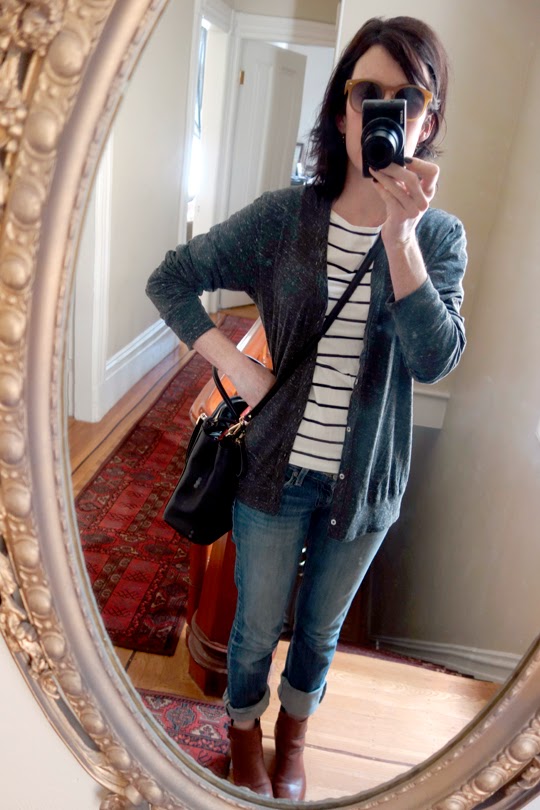 Sunglasses – I love buying men's sunglasses. Usually cheaper and a bit more stylish. I found these at H&M in Chicago.
Striped Shirt – Does H&M still sell these in ever color imaginable? I have two with navy stripes like this and one with orange for baseball games.
Cardigan – I steal this lightweight sweater from Rob's closet – a real "boyfriend" cardigan! Similar to this from Old Navy.
Jeans – Levi's 524 jeans are the perfect cut in-between skinny and straight. Only $40 and they wear out well.
Boots – I got my natural leather booties with a stacked wood heel on sale from Anthropologie a few years ago. The trick to wearing with jeans is to roll up your cuffs to right above the boot – barista-style.
Purse – My trusty Coach carryall bag that somehow fits my laptop, charger, camera and phone.