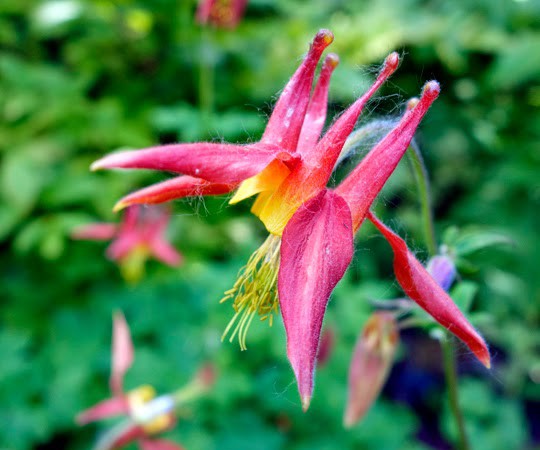 Wildflowers of Exit Glacier National Park, Alaska
As you saw in yesterday's report about hiking to Harding Icefield, Exit Glacier National Park is blanketed in wildflowers in early summer. Along with plenty of Lupine, Miniature Dogwood and Buttercups I spotted a dozen new varieties. This list is in order of elevation, headed to the 3,000 foot summit from the ranger station. Starting with Western Columbine:
Goatsbeard also often grows in 5 foot banks along the highway.
Yellow Monkeyflower.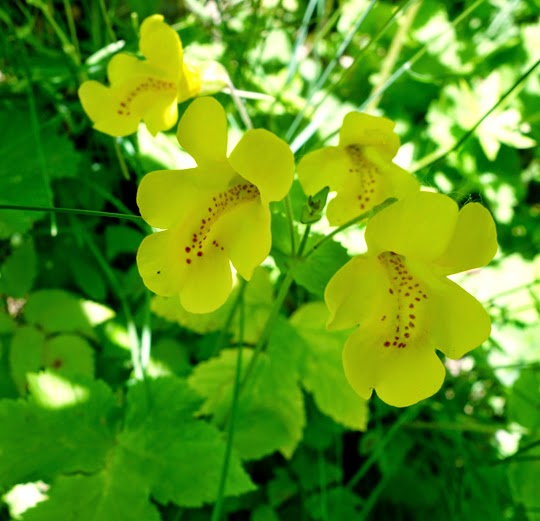 Sidebells Pyrola.
Couldn't identify this tiny white and red flower, looked berry-ish.
Now, we're leaving the wooded forest and headed to Marmot Meadow. Mountain Harebell.
I was so excited to see wild violets growing along small creeks here. Think this is Dog Violet.
Vast bushes of Salmonberries along the trail too.
This might be Purple Cress?
Love these Narcissus-Flowered Anemones. Much happier growing here than at Denali.
Low plants and heather start to take over as you climb. This is the Mountain Heather variety.
Diamond Leaf Willow.
Finally, spotted the state flower hiding in deep grass. Forget-me-Not.
Kings Crown.
Unidentified pink daisy-like flower growing with the heather.
Moss Heather.
A really pretty, but unidentified pink flower.
Finally, we're at the top of the icefield and it looks like nothing but snow and gravel for miles. But, take a closer look. Dwarf Buttercups.
I couldn't identify this pretty white rose-like wildflower bravely growing on the rocks.
Moss Campion.