Ice and Flowers: Hike to the Harding Icefield at Exit Glacier National Park, Alaska
Another day of gorgeous sunny weather on the Kenai peninsula! Time to hit the trails at Exit Glacier National Park outside Seward, Alaska. There's two big hikes here: the first is a popular 1 mile jaunt up to the foot of the retreating glacier, which we did first.
The second hike is a 8.2 mile, 3,000+ foot climb to the Harding Icefield. You're supposed to allow 6-8 hours to complete it…we can beat that!
I wasn't expecting the hike to be incredibly pretty and blanketed with wildflowers the entire way. It starts in a shady forest before popping out into high meadows. As you climb, the terrain gets more rocky and the flowers grow lower to the ground.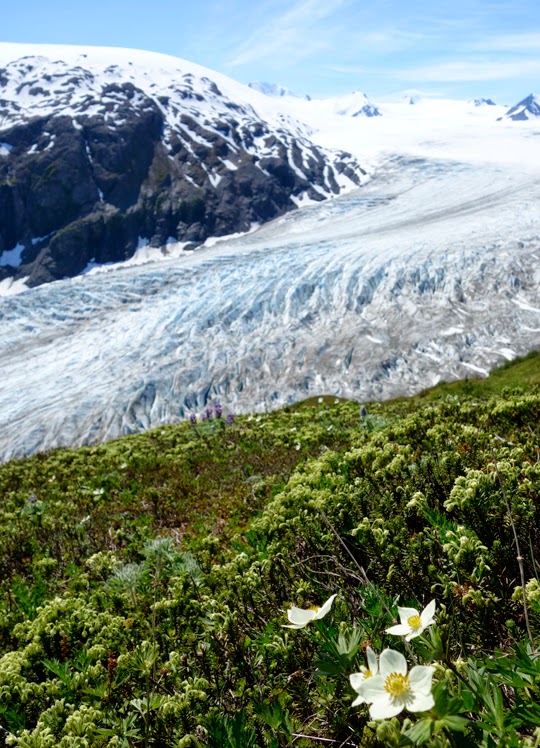 We've been hiking straight up for about 2 hours and the flowers haven't quit. Each turn brings a new combination of blue lupine, buttercups, columbine.
The flowers finally turn into gray gravel and snow at the very top. There's an emergency shelter here for hikers caught by bad weather. It's bolted to the ground with eight steel straps.
We made it to the summit in just about 3 hours!
Harding Icefield covers 1,000 square miles and is thousands of feet deep.
40 different glaciers are "spawned" off this huge chunk of ice and it gets 400 inches of new snow each winter. Rob and Seth felt quite at home being mountaineers back in college. I was just happy to be stopped for lunch!
After the quick break, we started the sprint back down the mountain.
And I mean sprint. We ran most of the steep trail back down, stopping only for a close black bear sighting at Marmot Meadow…
…and for me to take more wildflower photos. I'll do a separate post about the many new flower varieties I spotted here.
We made it back to the RV in just over 4 hours. I was so happy to reach the ranger station's cold water fountains! If you want to hike to Harding Icefield, I recommend being more prepared than we were. Bring two bottles of water each, lots of snacks, sunblock and layers in case the weather turns. I don't usually go for hiking poles, but they would be nice to have on this steep hike.